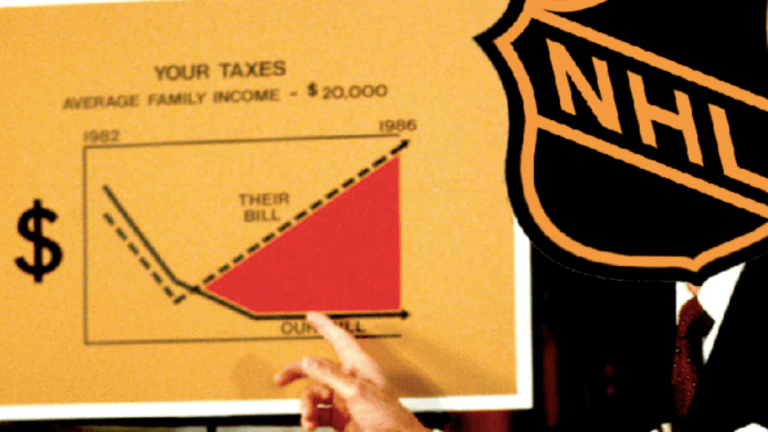 New NHL Ads Prove That The NHL Doesn't Watch The NHL
This is a misstep.
Get Pucks Deep.
Keep It Simple.
That's Pretty Mint.
It's In The Sauce.
These are the words that will get you fired up for hockey season, or at least so the NHL was hoping on Thursday when the league tweeted "Think Different," followed by an apple emoji, trying to either recapture or pay extremely weird homage to an ad from 22 years ago that somehow equated the bravery of Martin Luther King and Gandhi to purchasing a computer with a slightly different operating system than the industry leader. It was weird then and really doesn't hold up now.
Those four "Think Different" follow-up slogans, in their Applesque font, were paired with the faces of four men who, presumably, are professional hockey players. On the one hand, the NHL deserves a little credit for not just leaning on Alex Ovechkin, Sidney Crosby, and Henrik Lundqvist as the faces of the league. On the other, much more reasonable hand, you need to spend some time building awareness of other players before dropping black-and-white images of four random-looking dudes and expecting anyone to know who they are.
What's amazing is that this was not even the NHL's worst attempt at social media marketing this week, because the league also managed to embarrass itself on Instagram, selling its streaming package by proclaiming "NO SOAP OPERAS / JUST HOCKEY," as if the entire NHL season isn't an eight-month slog building up to a kiss. Also, the NHL might do well to remember that Mitch Marner, the 22-year-old who scored 94 points last season for the league's most popular team, the Toronto Maple Leafs, remains unsigned as a restricted free agent, just weeks before the season. Also, soap operas make for pretty good sports content, if not necessarily good sports – just ask Antonio Brown and the Oakland Raiders, and realize that more people know who the guy is that isn't playing football right now than have any idea who the guys are that the NHL is basing entire ads around.
That's not to say the NHL should be advertising labor drama, not when we've once again reached collective bargaining season, and the last two rounds have resulted in a season and a half of hockey being canceled. It also probably isn't easy when the most popular figure in the sport you're trying to sell is a seven-foot-tall hirsute orange monster who does not actually play said sport. Or maybe it is that easy.