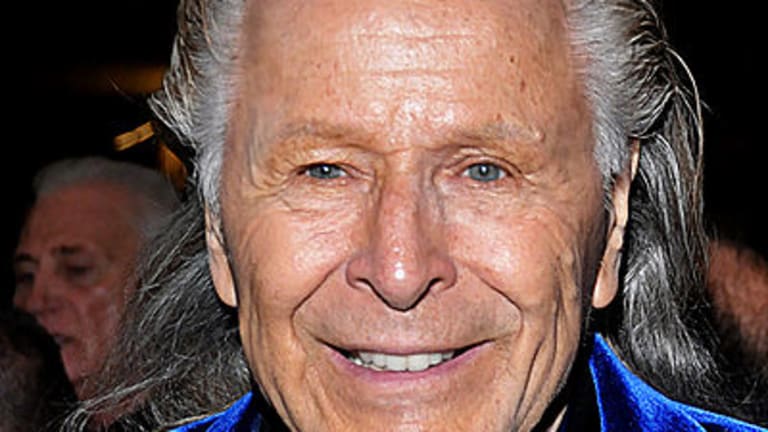 Fashion Mogul Says Hedge Fund Manager Trying To Destroy Him Through The New York Times, Which Hasn't Published An Article About Him In A Year-And-A-Half
In fairness, Peter Nygard may be saving his best legal arguments to keep himself out of a Bahamian jail.
The soap operatic story of Louis Bacon's dispute with his Bahamian neighbor has played out primarily on Page Six (and, you know, in the courts). Rife as it is with naked, dead gardeners; military-grade speakers; mysterious fires; and henchmen named "Bobo" and "Toggi;" as well as accusations of dolphin murder, attempted human murder, Ku Klux Klan membership, narcotics dealing and insider-trading, this is where it belongs. But, according to Bacon's rival, Canadian affordable fashion mogul Peter Nygard, the hedge fund manager is working with some more elevated journalists in yet another effort to destroy him.
"Having failed to convince the US Department of Homeland Security and Federal Bureau of Investigation to work with them to complete their desired result of destroying plaintiffs, defendants have now turned their attention to attempting to improperly influence and providing false information to a prominent New York newspaper to assist them in their quest…." The Times is not named as a defendant, but the suit does give the address of the "major New York newspaper" as 620 Eighth Ave. — which is the Gray Lady's headquarters. The suit claims that the reporters for the paper "tried to steer the individuals to provide information to fit a story" and that reporters wanted to "bring down" Nygard.
Whether or not those reporters did, in fact, try to do those things, or wanted to bring Nygard down, they don't have much to show for it: A cursory search of the Times for mentions of Nygard find all of three since the last time it deigned to cover the Bahamas battle in 2014. One, from 2016, seems a promising piece of evidence for Nygard's case, with the headline, "How to Hide $400 Million." Alas, Nygard's not the one allegedly hiding that cash; he makes only a brief cameo attending one of Nygard's famed parties, where the story's actual subject met and befriended a "Shark Tank" judge. More recently, he featured among other rich guys in an article about trying to cheat death, specifically his use of injections of his own stem cells to reverse his aging, which judging from recent photographs is not going well. Otherwise, there's a story about a second-tier Oscars party he sponsors in Los Angeles, which does admittedly refer to him as an "aging playboy" and "outré figure," but he'd probably only object to one of those descriptors. Bacon dismissed the allegations as "a move straight out of Nygard's litigation playbook," and that's an accusation that a 2010 article in the Times does back up.
The Canadian Broadcasting Corporation now finds itself the target of a copyright infringement lawsuit after recording the opening of a shop in Manhattan controlled by the designer Peter Nygard….

In its complaint filed in a United States District Court, Nygard said that it had invited only a few members of the media who had to sign an agreement "limiting their right to record the event."

Neither David Common, a correspondent for the CBC, nor his camera operator, the company said, were among those invited to the show nor did they or anyone else from the CBC sign one of Nygard's media agreements.
Anyway, there's more to Nygard's latest lawsuit—itself a response to Bacon's February victory, when a New York judge signed off on his effort to sue Nygard for defamation in his hometown—but quite frankly, none of it lives up to the earlier allegations in the case.
In addition to the NY Times, Nygard points to a 2010 Canadian Broadcasting segment that included witnesses who gave "false statements" saying Nygard forced himself sexually on a woman…. The suit, filed by lawyers David Ross and Cynthia Butera on Sept. 6, goes on to claim that Bacon is running "a private witness protection program" in the US for at least five people who claim to have dirt on Nygard. The individuals in the "private witness protection program" are giving false and misleading statements, the suit said.
Nor, frankly, does it live up to the ongoing drama in the Bahamas. When we last checked in, a Bacon-led group had gotten Nygard's home there seized—Nygard had to pay them $2.6 million to get it back. Not that he's necessarily all that eager to return, given the warrant out for his arrest and his conviction on contempt of court charges.
The sentencing of Canadian fashion mogul Peter Nygard on contempt charges was delayed again yesterday, with his attorneys being granted an adjournment due to a scheduling conflict…. Mr Smith, at the time, submitted to Justice Grant-Thompson that a "severe custodial sentence" should be levied on Mr Nygard, as only the loss of his liberty for a "long period" would cause the "serial recidivist contemnor" to "heel" and respect The Bahamas' administration of justice…. Mr Smith also revealed that Mr Nygard is now faced with another committal application for breaching Justice Keith Thompson's order for him and his attorney Keod Smith to immediately remove a sworn affidavit from Justice Grant-Thompson's court file containing "very sensitive" client/attorney information from Mr Smith's law firm Callenders & Co.
New York Times gets caught up in billionaires' bitter feud [N.Y. Post]