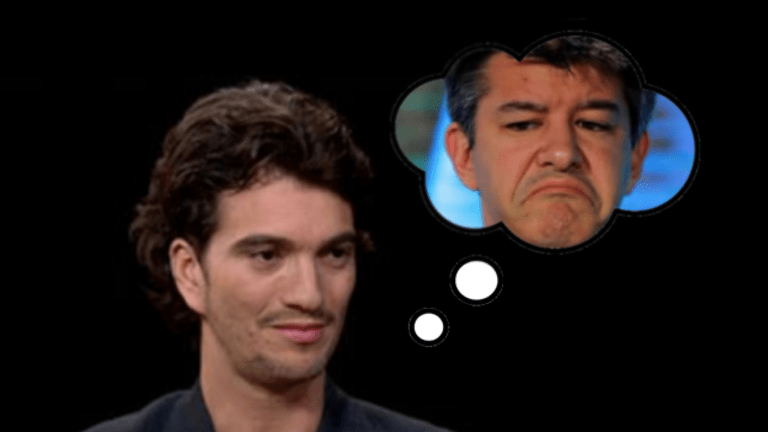 Opening Bell 9.25.19
Work is going to be awkward for Rebekah Neumann today ...
Start your day with the Opening Bell powered by The Water Coolest. The Water Coolest is the preferred bathroom stall reading material of finance professionals. Sign up for the free daily newsletter.
OUT OF OFFICE
Well, that's all she wrote for Adam Neumann. The writing was on the wall for the WeCEO whose stock was dropping faster than Antonio Brown in your fantasy league. Pressure had been mounting for Neumann to step down amid claims that he had been exploiting the company for his own good, major governance lapses and at least one scathing WSJ character assassination.
Neumann's out, who's in?!
Artie Minson and Sebastian Gunningham will serve as Co-CEOs for the foreseeable future at We Company. The two are no slouches with Minson having taken AOL and Time Warner Cable public and Gunningham boasting LinkedIn endorsements for "running Amazon's marketplace biz" and "being a Bezos lieutenant." I wonder if they will get adjoining co-working offices?
Despite their experience in the industry, the combo will have a tough time taming the beast that Neumann created as it doesn't appear that the company will search for another solo CEO until after its IPO.
So we can still IPO this year?
In the words of Randy Jackson, "that's a no from me dog." Now that Neumann is out, it seems like it is back to the drawing board for We. The company didn't officially rule out an IPO by the end of the year, but it also hasn't indicated that it's in any rush.
We reported $800M in sales in its latest quarter. The problem is that the company still managed to lose $600M over the same time period. Good luck, Artie and Sebastian.
The bottom line ...
It's up to the co-CEOs to channel their inner shake-and-bake and turn this company around. Until We shows that it can narrow its losses, and the CEOs prove that they can step up as leaders, the chances of you investing in The We Co. in the public markets any time soon are minuscule.
WeWork's Neumann Steps Down as CEO, With IPO on the Line [Bloomberg]
IN OTHER NEWS
- Juul is trimming the fat [WSJ]
- Google and Starbucks stick it to the EU ... USA! USA! USA! [WSJ]