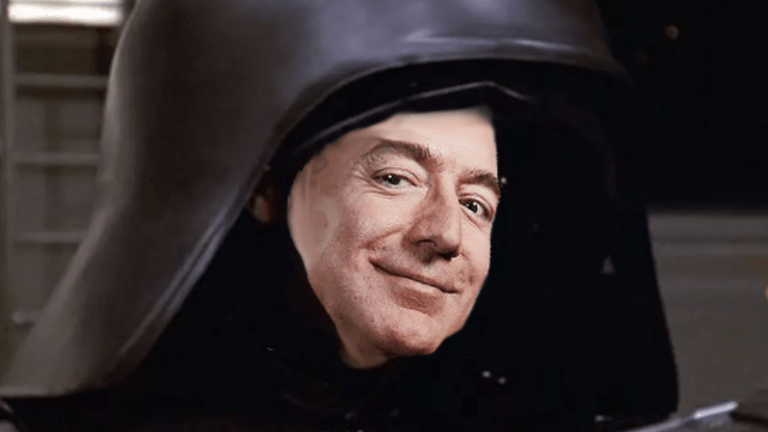 Opening Bell 9.26.19
"Alexa, slide into Lauren Sanchez's DMs ..."
Start your day with the Opening Bell powered by The Water Coolest. The Water Coolest is the preferred bathroom stall reading material of finance professionals. Sign up for the free daily newsletter.
HEY ALEXA
Amazon held its annual hardware event yesterday. And Jeffrey Commerce plans on going all in on virtual assistants. Isn't that right, Alexa?
Something new
Echo Buds made its debut, which is Amazon's AirPod equivalent … but $30 cheaper. The middle-class AirPod, if you will. In addition to giving the Dot and Show facelifts, Amazon also introduced Alexa enabled eyeglasses and rings, dubbed Echo Frames and Echo Loop, respectively. Those two products are invite-only ... which makes sense considering the rollout of Google Glass and Snap Spectacles.
The tech company also unveiled a wireless network, Sidewalk, that will help extend the reach of its home products to 1 mile, which doesn't seem helpful, unless of course, you've bought Amazon's new dog collar tag, Ring Fetch, to help find your pet, you terrible pet owner, you.
The bottom line ...
While Amazon is directly challenging Apple's 53% market share of the earbud market, it currently enjoys a 58% share of 2019's smart-speaker market. But experts don't think the good times can last forever for Jeffrey Commerce. It's projected that Google's Nest device will surpass Amazon's Echo in the home virtual assistant's market by 2023.
Amazon's stock rose 1.5% on the day.
Here's everything Amazon just announced [CNBC]
IN OTHER NEWS
- Juul's captain isn't going down with the ship [CNBC]
- eBay CEO throws up the deuces [WSJ]