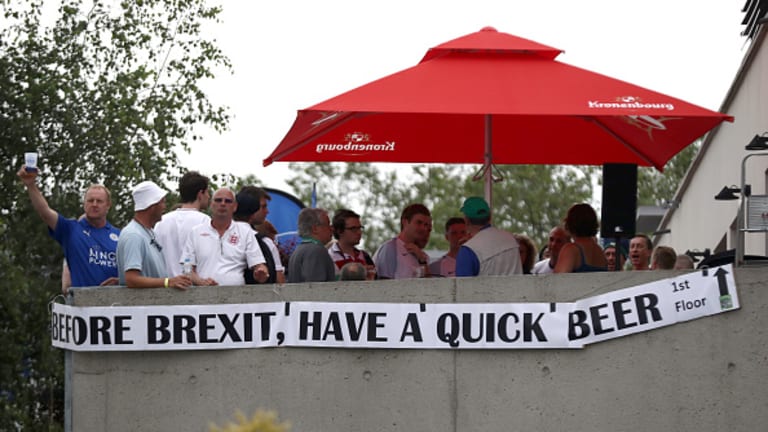 Opening Bell 9.4.19
There's only one thing in the UK that's more of a disaster than Boris Johnson's hair ...
Start your day with the Opening Bell powered by The Water Coolest. The Water Coolest is the preferred bathroom stall reading material of finance professionals. Sign up for the free daily newsletter.
NOT SO GREAT BRITAIN
A smooth Brexit is about as likely as Ray Dalio getting invited to Burning Man ever again.
After Prime Minister Boris Johnson lobbied the Queen to shut down Parliament until mid-October to push forward a "no-deal" Brexit, members of Parliament responded by voting to take over Parliamentary business …
Opposition politicians and a "rebel" Conservative-led group dealt BJ a crippling blow and look to put forth legislation that will block the UK from leaving the EU unless it has a Brexit deal in place. Proponents of a deal point to the economic sh*tstorm Britain will face without a plan.
What in the bloody 'ell?
Brexit is supposed to be a done deal by October 31. Sound familiar?
Johnson took over for Theresa May who failed miserably three times to negotiate a Brexit deal. Turns out, Boris' grand plan is to have no plan at all, leaving the UK to "fall out" of the EU ... thus giving the Kingdom leverage to make a trade deal with the EU. Wait, what? Yes, that's actually Johnson's "strategy."
Meanwhile, Parliament needs to approve any master plan handed down by the PM. While some MPs don't want Brexit at all, others do ... they'd just prefer to have an actual plan in place.
So what's next?
At this point, another vote will be held on the legislation (to block a no-deal Brexit) as early as Wednesday thus forcing Johnson back to the negotiating table with the EU. Fun fact: the EU needs to sign off on all of this as well. 
Of course, PM BJ might just say f*ck it and call for a snap election, which would be the country's third general election in five years. That move would require the support of two-thirds of Parliament. Did I mention that Parliament is demanding a guarantee that there won't be a no-deal Brexit before moving forward with an election?
You can't make this sh*t up, folks.
UK lawmakers vote to take control of parliament in bid to prevent a no-deal Brexit  [CNBC]
IN OTHER NEWS
- Walmart is changing its policies on guns and ammo [WSJ]
- Marty Chavez is taking his talents to ... a beach somewhere [CNBC]
- Uber and Lyft continue to get what they deserve [CNBC]