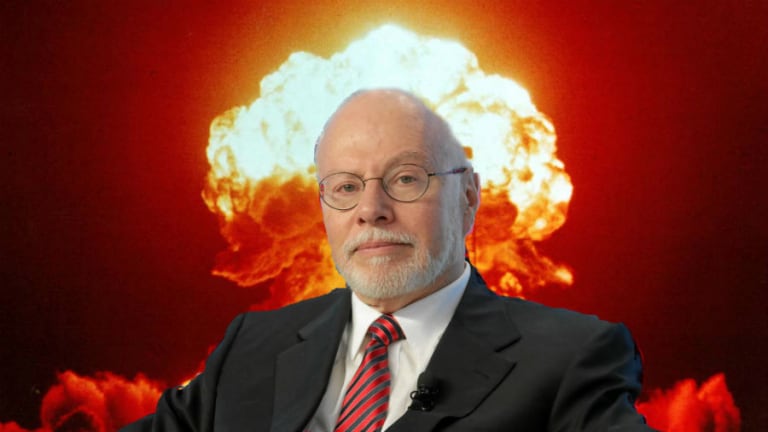 Paul Singer Decides That AT&T Needs His Always Unwelcome Advice
Everyone's least favorite activist investor is $3.2 billion certain that Ma Bell needs new leadership.
AT&T is a massive telecom company that also owns tv networks and satellite TV systems. It is a legendary American brand, an OG ticker on the stock exchange that was once so powerful it had to be broken up by the government. It's literally Ma Bell for cripe's sakes.
And believe it or not, Paul Singer thinks it's a mess that he can fix...
AT&T soared Monday after Paul Singer's Elliott Management announced it owns $3.2 billion in the underperforming telecom giant's stock.

The hedge fund said it sent a letter to the company's board and argued for ways AT&T can "improve its business and realize a historic increase in value."
Tee hee. Happy Monday, AT&T CEO Randall Stepehenson and your board, we hope you like living in Hell.
Elliott said the company could eventually be worth at least $60 per share, catapulting the stock up as much as 9% in premarket trading Monday. Some of the gains trimmed back later to 4% gain after the opening bell. Shares were trading just below $38 as U.S. markets opened. 

If the stock closes near its premarket levels, it would represent AT&T's best day on Wall Street since March 2009. The stock closed at $36.25 on Friday.
And then Paul is going to ask for board seats, which will make your boardroom look like the end result of a Thanos snap-level event, and then he'll start agitating for a new CEO. That will be bad, because when Paul Singer agitates, a lot of people lose their jobs.
But, hey, people don't like huge American brands getting messed with by venal corporate raiders. Surely AT&T can rely on a savior to come along.
Welcome to your new reality, Randall.
AT&T shares jump after activist Elliott Management takes $3.2 billion stake, sees stock worth $60 [CNBC]