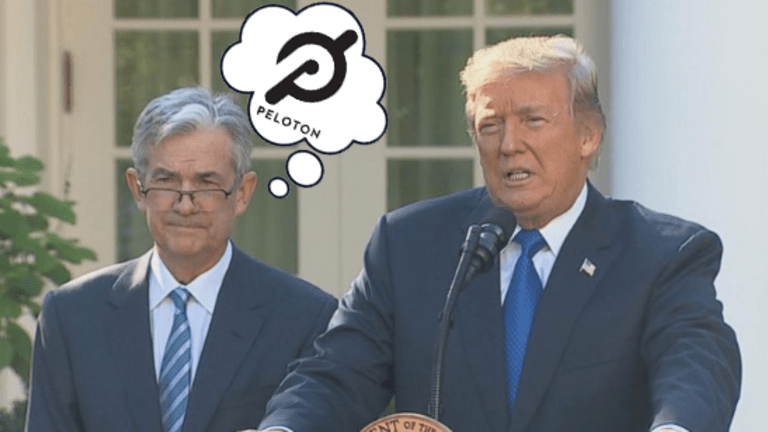 Peloton CEO Uses IPO Day To Prove That He's Only Kind Of Been Paying Attention
Hey, when was the last time that admitting to "prioritizing growth over profitability" bitten a tech IPO in the ass?
Peloton is going public, you guys! What could go wrong?!
The company's bikes and treadmills — with accompanying video screens to stream live and provide on-demand recorded classes — has earned loyalty among users who prefer to exercise at home instead of going to a studio.

The company says it has 1.4 million members — users with a Peloton account.

Growing membership helped sales grow to $915 million for the fiscal year ended June 30, up 110% from in fiscal 2018. However, net losses in fiscal 2019 widened five-times to $245.7 million.
Well, this feels familiar. but just how greedy is Peloton as it hemorrhages money while also asking public market investors to give it their money? 
Peloton Interactive co-founder and CEO John Foley told CNBC he hopes to see "some momentum" in the company's stock in its market debut on Thursday.

"We think we generally left something on the table in terms of pricing" the company's initial public offering, Foley said, just hours before shares were set to begin trading on the Nasdaq under the ticker symbol PTON.
And by "leaving something on the table," Foley means pricing in at the top of its range [$29 a share]. Listen, we get that Peloton has clearly taken pains to scale back on overinflating IPO expectations in light of the Lyft, Uber, WeWork trend, but it's also a luxury brand that doesn't turn a profit being valued at $8.1 billion. We stand by our opinion that this company is a standalone argument to raise interest rates.
But let's be fair: Is there anything Foley can say to make us believe that he's got a hotter take than what's come before?...
The company is building two large production studios in New York and London and is expanding elsewhere in Europe.

Foley sees the costs to build the business as "investments," stressing that "we're in investment mode" and "prioritizing growth over profitability. 
We'll take that as a "No."
And we won't even get into the fact that Foley is also using a dual class structure, which...have we learned NOTHING?!
"We couldn't do [a] 10-to-1 voting class because the leadership wouldn't have any control," Foley added. "We feel like we have the right, experienced leadership team in place. The board feels good about us. We feel great about the opportunity." 
Oh, this is nice. Adam Neumann really needed a laugh.
But don't worry Peloton bulls, there is a plan here:
"We hope it prices up," Foley said on "Squawk Box" on Thursday morning, referring to the stock price.
Makes sense to us!
'We weren't greedy' — Peloton CEO says IPO 'left something on the table on pricing' [CNBC]