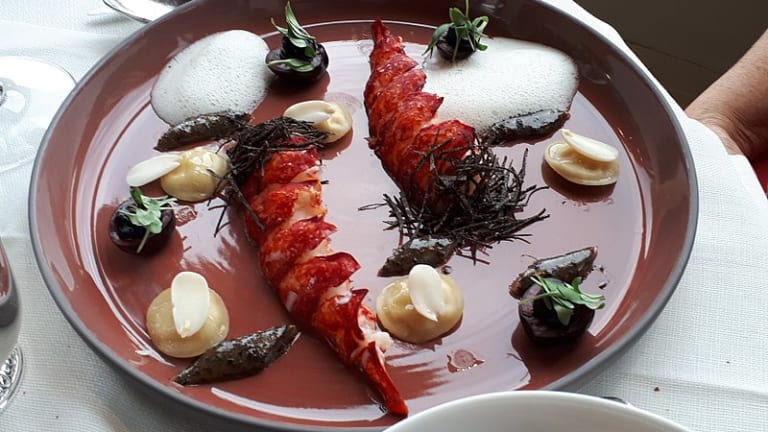 Steve Schwarzman Thinks The Lobster At Claridge's Is Pretty Good
Socialism? Higher taxes? Not so much.
Last month, Steve Schwarzman had lunch with Financial Times editor Lionel Barber. The venue? The august Foyer & Reading Room at London's Claridge's hotel, which just so happens to be a Blackstone Group property. And where better to discuss the specter haunting Schwarzman and his buddy Donald Trump—the specter of socialism, over a £15 tomato soup and £36 lobster Caesar salad pronounced "pretty good" by the proprietor? (Since he was picking up the tab, Barber felt no compunction about one-upping Schwarzman on both accounts, with a £28 smoked salmon appetizer and £48 Dover sole, capped with something called "hazelnut mystère." And why not? After all, Barber notes that he was "on dry August," and his guest "only drinks wine sparingly," so one must tickle the palette somehow.)
Anyway, Schwarzman is A-OK with raising the minimum wage to $15 and paying teachers more, but he is not interested in any of this silly talk about he and his ilk contributing a little more directly.
How about the mega rich paying more taxes? Schwarzman looks incredulous. "Taxes on the wealthy?..."

"The tax system in the US is extremely progressive . . . it's a reverse pyramid. The top 10 per cent pays 70 per cent [of the tax take]. The top 1 per cent pays 38 to 40. I pay around 48 to 47 per cent tax rate…."

Today, socialism is no longer a dirty word in the Democratic party. Is he worried about the 2020 presidential election? "The politics of anger and free things is a powerful potential elector," he says, adding that the US is more polarised than ever in his lifetime.
For instance, he, a man who readily compared President Obama to Hitler and a proposed tax increase on private equity firms to the invasion and destruction of Poland and the wholesale slaughter and enslavement of its people, was shocked to find out that the caricature of his president's most adoring fans had a basis in reality.
"Most of us had no idea there were Nazis in America…."
Otherwise, Schwarzman—at Barber's urging, it must be admitted—seemed more than content to demonstrate why socialism has such a great and growing appeal. For instance, his famous philanthropical bent:
He is a hard-boiled negotiator when it comes to disbursing money and naming rights. The New York Public Library became so frustrated that they proposed putting his name on the roof (that way his name would be seen by every plane flying over Manhattan to La Guardia)….

"Do you agree with Carnegie when he said: he who dies rich dies disgraced?" Schwarzman offers a rambling answer about America's "tax infrastructure". So will he follow Warren Buffett's rallying call to the rich to donate more than 50 per cent of their fortune to charity? (Buffett himself has gone higher, to 99 per cent). "Maybe I will, maybe I won't, but to me that's not relevant . . . obviously I've given it a lot of thought and the vast amount will go to charity."
Yes, let's move on to more relevant things, like Schwarzman's taste for bling, which is rivalled only by his taste for putting his name on things. For instance, that 60 birthday party that shut down part of Park Avenue?
"It was only one lane," he protests…./Why is glitz and showiness so integral to Steve Schwarzman?

"That's a good question," he says, attributing his aesthetic taste partly to his second wife, Christine. "I like generally doing things that nobody has done. I also like to do things that are beautiful."
Mission accomplished.
Stephen Schwarzman: 'I like to do things that are beautiful' [FT]