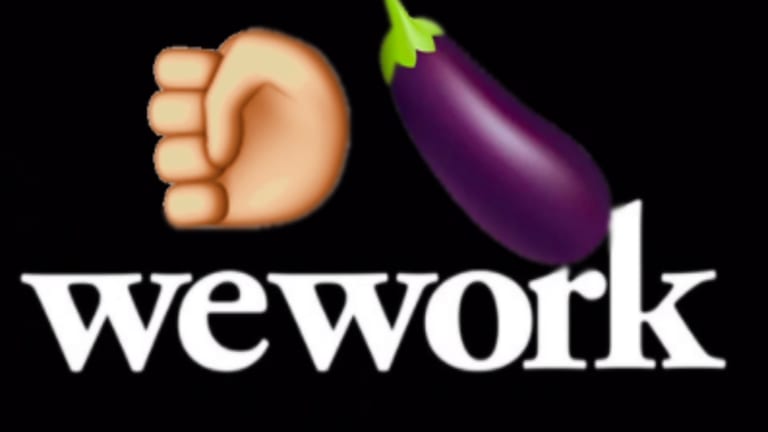 SoftBank And WeWork Have Some Kinky Thing Going And It's Weird To Watch
Get a room, you guys...WeKnow a place that charges by the month.
SoftBank, the 21st-Century performance art project started by Masayoshi Son, has poured about $11 billion into a hipster millennial-fueled commercial real estate firm called WeWork started up by Rebekah Neumann and her husband, Adam. 
That looked like a wonderful and wild ride in thise cheap money world, especially when WeWork was valued at like $60 billion. But now that the company WeWork created to take itself public as something more is being valued at maybe less than the $11 billion SotBank plowed in -and precisely because Masa Son opened a spigot and let the Neumann's pretend they showed up soaking wet- it seems clear to everyone that SoftBank got carried away.
Everyone except SoftBank...
SoftBank Group Corp. plans to buy at least $750 million of the shares in WeWork's impending IPO, a move that could allow the office-sharing company to shore up an offering that has been plagued by tepid investor demand.

The Japanese technology conglomerate, already the biggest investor in WeWork's parent, would end up with 25% or more of the shares sold in an offering that's expected to raise at least $3 billion and value the startup at between $15 billion and $20 billion, according to people familiar with the matter.
Well, that's definitely a thing one can do.
But while throwing more money at the problem you've created by turning an objectively compelling and gestalt-themed startup into a bloated cash-burning nightmare, is one solution, is there anything WeWork can do?
We Co., as the company is officially known, earlier Friday agreed to make sweeping governance changes and chose Nasdaq for its exchange. It detailed the governance changes in a regulatory filing saying the company would appoint a lead independent director by the end of the year. We Co-founder and Chief Executive Adam Neumann also ratcheted back the potency of his voting rights to 10 votes per share from 20, reversing a recent enhancement to their power. Mr. Neumann still retains majority voting control, but the company said the board has the ability to remove him as CEO.
Well that feels like a totally normal thing to have to do...
The company eliminated a provision in which his wife, Rebekah Neumann—also a We co-founder—would play a key role in choosing Mr. Neumann's successor if he dies or is permanently disabled in the next 10 years. It said that Mr. Neumann, who previously pledged he wouldn't sell shares for a year after the IPO, would sell no more than 10% of his stake in the second and third years after the offering.
Did anyone also maybe bring up the idea of being clear that there will be like actual licensed accountants looking things over? Cuz...
We like a good batshit financial stunt as much as the next asshole, but this relationship between SoftBank and WeWork has turned veritably kinky, and we are almost ashamed to keep watching at this point. 
See you Monday when we learn this thing is going public at $21 billion.
SoftBank to Buy at Least $750 Million of WeWork Parent Shares in IPO [WSJ]