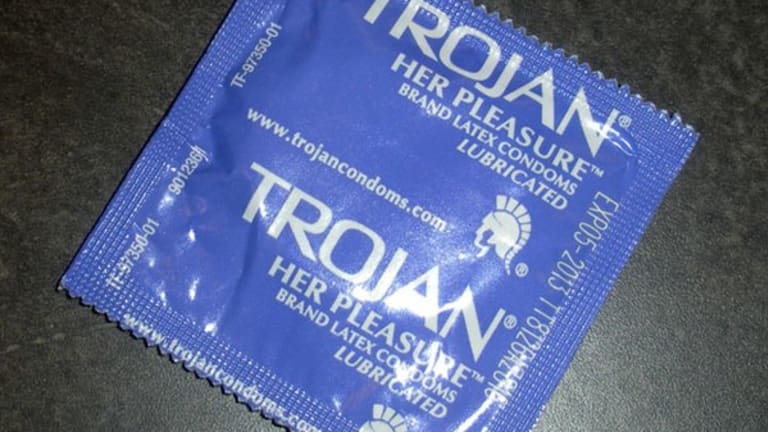 Hedge Fund: That Is A Rolled Up Sock In The Pocket Of Trojan Maker
Church & Dwight is not quite filling its Magnum condoms.
Church & Dwight Co. sell condoms, sex toys, hair growth potions and rectal creams (as well as, you know, baking soda and showerheads). And yet, incredibly, it's forced to resort to "financial engineering" to make itself look profitable (and good enough to pay out bonuses), according to hedge fund manager Ben Axler, using his best Carson Block voice.
"Six out of ten of its 'Power Brands' acquired pre-2017 are struggling or outright failures," according to the 10-year-old investment firm founded by Ben Axler…. The hedge fund noted that Church & Dwight, based in Ewing Township, NJ, deemed last year's performance to be worth a special 15% bonus to employees and management, which Spruce called "a complete charade in light of collapsing margins, failed deals, subtle accounting changes, and numbers that don't add up."
Axler's certainly have been recently. His Spruce Point Capital Management returned 24% last year, making it the best equity market-neutral fund in the business and Axler the second-most successful activist short-seller. Maybe if Church & Dwight CEO Matt Farrell took a page from Axler rather than give him enough material to fill 92, he wouldn't be in this position.
Axler is sitting in the common area of the co-working space a few blocks south of New York's Central Park that serves as the nerve center of his hedge fund firm, Spruce Point Capital Management.… With just three full-time employees operating out of the shared office, Spruce Point is on a hot streak…. It ended the year with about $182 million under management.
Shares of Trojan condoms maker Church & Dwight fall on hedge fund report [N.Y. Post]