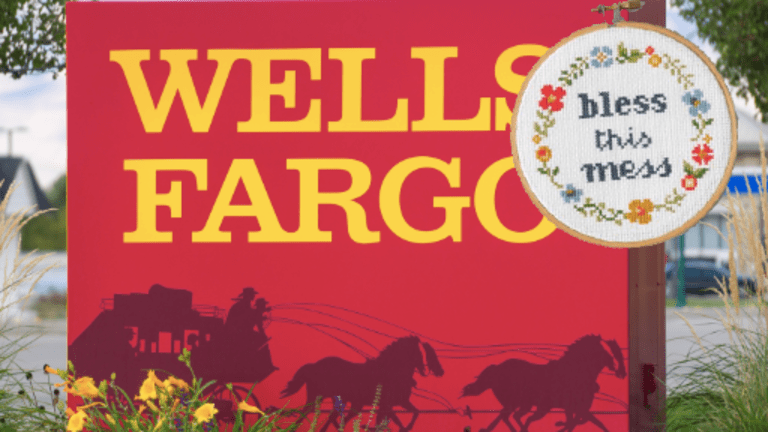 Wells Fargo To Abandon Hope Of Paying A Woman Less Than Her Male Peers To Be CEO/Human Target
C. Allen Parker might be getting the full-time promotion he seems to really not want.
In the miasma of chaos that has been the recent news cycle, it was easy to forget that America's fourth-largest bank is still operating without a permanent CEO. 
So easy, in fact, that we might have forgotten ourselves how long it's been since Wells Fargo placed a story in the financial press to make everyone think it was so close to hiring a powerful woman to save The Stagecoach. But it now appears that we haven't heard anything new because there is nothing new and, according to the FT, the board is essentially giving up and hoping no one will notice what with the perma-crisis of impeachment hanging over us all...
Six months after Tim Sloan was forced out as Wells Fargo's chief executive, the fourth-largest US bank by assets remains without a replacement — leading investors to conclude that the interim boss, former general counsel Allen Parker, is increasingly likely to be given the role permanently.
What? Wow! How is this possible?
Industry insiders and analysts said the prospect of regulatory pressure, a below-market pay cheque, and even geography are all making it difficult to fill the high-profile post.
And also maybe because nobody really wanted it in the first place. Even Parker, who has not been particularly shy about how much he isn't interested in being the CEO of Wells Fargo long-term. Which is understandable, because even the people who need Wells Fargo to bounce back admit that this is a uniquely shitty job:
"The disposition of a good banker is conservative — that is a requirement, temperamentally," said Chris Davis, chairman of Davis Advisors, which holds Wells Fargo shares worth about $1.4bn. "[They are] not interested in fads or hype but in the numbers. Can you can think of anybody who has those characteristics who likes being hauled in front of Congress — for an institution where the last guy had all of those characteristics, and got forced out?"
But if it is Parker, it's not that shameful. Not as shameful as it would have been to tout the first CEO of a Big Four American bank while paying her less than her male counterparts for doing the same job but under more difficult circumstances...
Then there is the matter of money. Brian Kleinhanzl, bank analyst at KBW, said that Wells "will have to pay below market" given that the raise Mr Sloan received in his last year at Wells — his total compensation went from $17.4m to $18.4m in 2018 — was one reason that politicians and regulators soured on him.

At other banks comparable in size to Wells, all the chief executives make $24m or more. Jamie Dimon of JPMorgan, with $2.6tn in assets, made $31m last year.
Looks like Cathy Bessant and Ruth Porat [who already lives in the Bay Area btw] saved Wells Fargo from itself on this one. So maybe it is time to cut The Stagecoach some slack on having no sense of optics. Maybe it's learning...
While Wells has previously committed to hiring an outside candidate, investors may prefer Mr Parker to more uncertainty. "A really good guy is running the bank now — there is nothing wrong with making that a permanent role," said Mr Davis.
Okay. Baby steps.
Wells Fargo acting chief Parker likely to get job by default [FT]