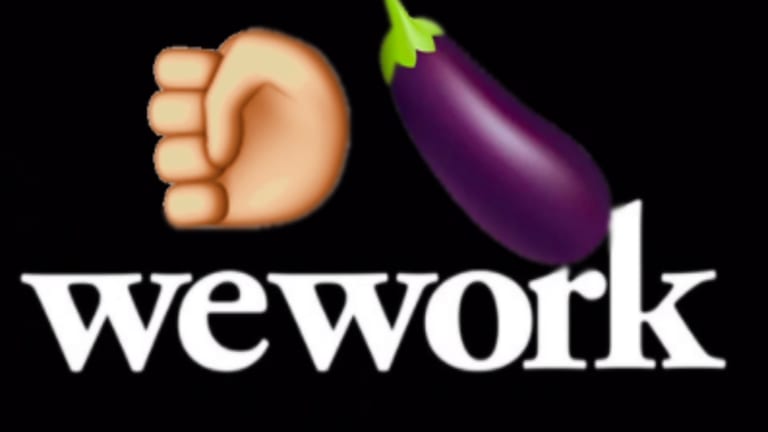 Never One To Fall Victim To Logic, WeWork Forging Ahead Towards An IPO
WeWork's drunkest friend begs WeWork to sober up, WeWork says "Nah, I'm good."
You've all been there; it's much too late or way too early, bad decisions have been made and the world has gotten a little spinny and more than a little foggy. The nausea is increasing almost as quickly as your urgent need to keep the party going. You probably won't remember this in the morning, so you're just doing the kind of shit that you would never have the courage to do in the light of day. Suddenly, your most hardcore party bro [let's call him Topher], embraces you in a bear hug and whispers that you gotta just shut it down. And this is Topher, the guy who has no limits, the guy who took his Series 7 on Molly and a bottle of Patron. You cannot believe that your most narco-friendly is telling you that the party is over...
WeWork knows what we're talking about:
SoftBank, the biggest outside shareholder in WeWork, is urging the lossmaking property group to shelve its hotly anticipated initial public offering after it received a cool reception from investors, according to people briefed on the discussions.
If Masa Son is telling WeWork that it needs to engage in less-risky financial behavior, then we might be in a situation where Adam Neumann needs to calm down...
SoftBank itself is trying to raise $108bn for a second Vision Fund to invest in technology start-ups. The Japanese group could face challenges raising that sum if We Company were to list at a steep discount to its last funding round, the people said.

WeWork is set to receive $1.5bn from SoftBank next year as part of an agreement struck at the start of this year. The company listed $2.5bn of cash and cash equivalents on its balance sheet as of June 30, according to filings with US securities regulators.
But like you at 3am trying to mumble out an order for another round of shots as your eyes roll in your head, Neumann is apparently beyond the capacity to hear advice:
The WeWork initial public offering is full speed ahead, sources familiar with the matter tell CNBC's David Faber, despite a number of a setbacks including a dramatic cut in its valuation and its biggest outside investor urging the controversial real estate company to shelve the offering.

The IPO roadshow is set to kick off as soon as Monday, the sources said.
At moments like this, it's useful to look around and take a moment to ask yourself "Am I the Topher?" Or in this case "Are WeTopher?"
SoftBank urges WeWork to shelve IPO [FT]
The WeWork IPO is full speed ahead with roadshow to kick off as soon as Monday, sources say [CNBC]