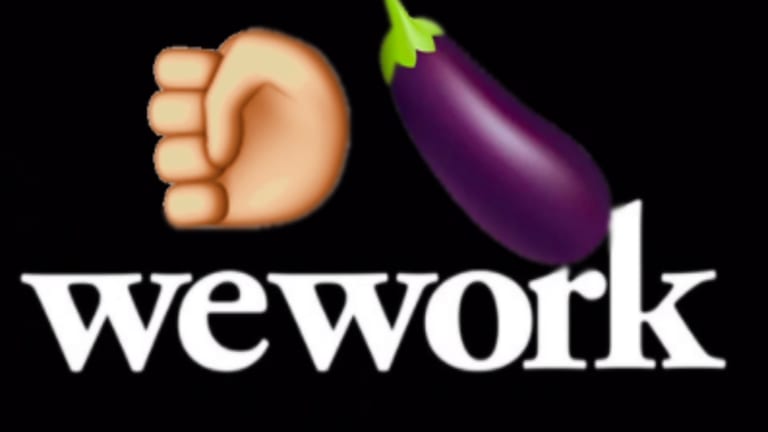 WeWork Takes A More Holistic And Forward-Thinking View Of Its Consciousness Regarding The IPO Process
Translation: Masa Son pulled the plug on this thing last night because of course he did.
Well, here's a thing that was bound to happen:
WeWork's parent postponed its initial public offering after investors questioned how much the company is worth and raised concerns about its corporate governance.

The shared-workspace company—which had planned to begin a roadshow to market the shares as early as Monday ahead of a trading debut next week—shelved the offering until at least next month, people familiar with the matter said.
This makes sense when your valuation is thought to be about a quarter of what it was like weeks ago, and you've had to admit that your CEO and founder is way too involved in the fabric of the company's unique ethos, and his personal finances are troublingly entwined with your corporate P&L. And also that you had a net loss of about $2 billion last year.
And it makes extra sense when you realize that "WeWork's parent" means "SoftBank," and "until at least next month" means "not for a while." 
Here's how we see it: Once the valuation looked like it dropped below the amount of money that SoftBank has poured into WeWork [about $10 billion], Masa Son and Co. started ringing the alarm and pulled every lever to halt the IPO. That included a bunch of leaks to the press that WeWork was considering halting the IPO, which looked weird since WeWork was clearly telling other people in the press that the IPO was on like the proverbial Donkey Kong. And this was all still going down as recently as literally yesterday. The adults and the kids are not talking, likely because there are no adults.
SoftBank doesn't get to be the voice of reason here. It does get the chance to make a cogent corrective decision after pouring the GDP of a developing nation into a real estate arbitrage startup that thinks its disrupting consciousness by making secondary leases and giving out beer. It's literally funded the creation of this Millennial thought crime Frankenstein.
Of course WeWork thinks it can overcome basic financial logic and go public at a $20 billion valuation. What with SoftBank's giving the company multiples funding rounds to pop like Viagra, WeWork has never had this problem before. But now it has a variety of problems, namely that a suddenly flaccid WeWork is being given a deeper inspection from every angle. Per the FT:
WeWork's bond prices tumbled on Tuesday after the property group shelved its initial public offering, in the clearest sign yet of the financial strain afflicting the lossmaking company.

The company's $702m of junk debt is one of the few gauges that investors have to judge WeWork's financial condition. The yield on the debt, which rises when its price falls, surged to a high of 8.9 per cent in early trading on Tuesday, according to bond trading platform MarketAxess. When the company borrowed the $702m last year, it yielded 7.875 per cent.
Now, we're not some gaggle of Gundlachs over here, but that kind of yield growth looks like distress to us. Call us crazy, but we're not seeing this IPO happening in a few weeks since it's hypothetically going to take more than a few days to fix what ails WeWork -- a company that we should all remember pulled down almost $2 billion in revenue last year. But that revenue is an even starker figure when you remember that the whole IPO process was aimed at raising enough public funding to activate a $6 billion loan that WeWork has baked into its financial future. 
Setting aside all of the MBA-level financial thinking that you dipshits will apply to this thing, isn't this simply a lot of debt for a company that thinks it's worth $20 billion and needs the next recession to happen literally never?
Turning this thing into a palatable public company is going to take some time. The next time WeWork opens its kimono, it better not reveal Adam Neumann holding cash in each hand and making investors guess which is his, which is theirs, and then pontificating about how he plans to spend all of it immediately. This process should rightly take months, and it would be borderline malpractice to say otherwise:
"The We Company is looking forward to our upcoming IPO, which we expect to be completed by the end of the year," it said in a statement late Monday after The Wall Street Journal reported on the delay. "We want to thank all of our employees, members and partners for their ongoing commitment."
WeWork could best thank everyone involved in WeWork by halting the IPO indefinitely until WeWork works for everyone who isn't We.
WeWork Parent Postpones IPO [WSJ]