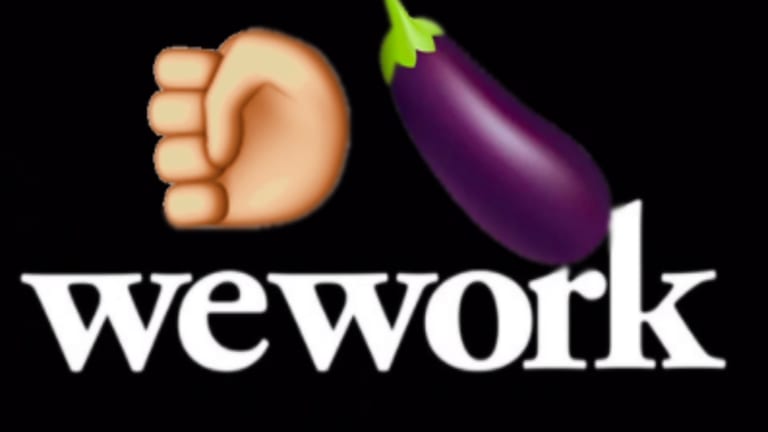 WeWork Now Offering IPO Investors A 50% Discount On Pretending That WeWork Is A Real Company
Adam Neumann is experimenting with quasi-realistic thinking.
Concerned about buying stock in a $50 billion cash-burning ego project that invents accounting principles on the fly? What about a $25 billion one?
WeWork's parent company is weighing a dramatic reduction in its valuation as it aims to go public while facing widespread skepticism over its business model and corporate governance, according to people familiar with the matter.

We Co. is considering putting a price tag on its IPO that would value it somewhere in the $20 billion range, potentially at the low end, these people said, less than half of the $47 billion mark where it last raised private capital.
Well, this is certainly an idea.
Another option would be simply rethinking a non-corporate non-structure that results in the kind of buttfumbling self-owns like making your founder/CEO/landlord/Bhagwan pay back the $6 million he "earned" by "selling" WeWork the trademarks on its own name. Ever since the company started this batshit IPO process, we've found ourselves doing something we never thought even we would do: asking a company "Are you fucking high?"
But this pre-emptive 50% valuation cut is a strong signal that WeWork is looking to be more mature before it goes full ticker symbol. In fact, we're starting to ponder the possibility that WeWork might actually be learning from the mistakes of Etsy, Uber, and Lyft, subverting its own corporate ego to underpromise before inevitably underdelivering. Hey, maybe Adam Neumann really is ready for this...
Adam Neumann, We's co-founder and chief executive, flew to Tokyo last week to meet one of the company's biggest investors, SoftBank Group Chief Executive Masayoshi Son, and members of his team, the people said. There, they discussed the possibility of an additional infusion of capital, multiple people briefed on the meeting said.

Among the possibilities they discussed was SoftBank serving as an anchor investor in the IPO by buying a significant portion of the roughly $3 billion to $4 billion the company is expected to raise. They also discussed whether SoftBank might invest a chunk of money that would allow We to delay its IPO until 2020, people familiar with the conversations said.
Nevermind...
WeWork Weighs Slashing Valuation by More Than Half Amid IPO Skepticism [WSJ]