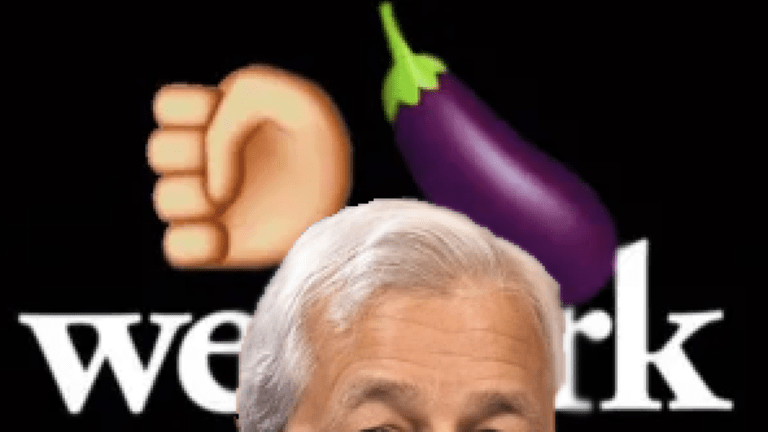 WeWork Asks Wall Street To Value It At More Than $20 Billion Or GTFO
This is escalating quickly.
What do you do when cleaving your pre-IPO valuation in half isn't working the charm you thought it would?
WeWork's parent is eyeing a valuation for its initial public offering that could fall below $20 billion as some existing investors push the workspace company to shelve the planned offering, people familiar with the matter said.
That's an even steeper discount on the real estate arbitrage play trussed up as a tech unicorn going to public to disrupt our consciousness. And while that sentence did not make any grammatical sense, it does if you know WeWork, which is all you really need to know about WeWork.
Well, there is one more thing you should know today:
A valuation below the $20 billion level that people familiar with the matter last week said the company was considering would be an even steeper drop from the $47 billion mark where We last raised private capital this year. The startup faces skepticism among potential public investors over its governance, business model and ability to turn a profit while continuing to grow. 
That's right, kids, despite having never turned a profit and not promising to ever turn a profit, Adam Neumann isn't going to get out of bed [a bed presumably owned by WeWork but in his bedroom nonetheless], for less than a $20 billion public valuation. Which is ironic, because...
Potential investors have been unnerved by co-founder and Chief Executive Adam Neumann 's sales of hundreds of millions of dollars of his stock and loans of more than $740 million tied to his shares in the company, according to Wall Street Journal reports and regulatory filings. Mr. Neumann also controls a majority of the voting rights of the company and recently doubled the potency of his supervoting shares.
And while Neumann's rather obtuse sense of how money works [and to whom it belongs] has been a real problem for WeWork's IPO process thus far, he does have a fairly perfect partner in his journey into the hallucinatory frontier of financial logic:
The company is continuing to talk to its biggest investor, SoftBank Group Corp., about whether the Japanese technology giant would put in additional capital through the IPO by buying a significant portion of the shares on offer or invest a chunk of money that would allow We to delay its IPO until 2020.

There is no guarantee SoftBank will ultimately choose to put more money into We. Some of the conglomerate's key investors have previously balked at doing so, people familiar with the matter have said. But SoftBank CEO Masayoshi Son has said he expects to keep backing the company in the future.
But the world's greatest living financial performance artist isn't WeWork's only friend in this grand IPO caper, there are two others:
A number of banks including JPMorgan Chase & Co. and Goldman Sachs Group Inc. have committed to arranging $6 billion of debt for We when it goes public, contingent on the offering raising $3 billion.
And that's where things get fun. Jamie and DJ D-Sol are also working on the IPO itself and would likely prefer that this thing just happen so they can get their fees and throw them in earnings reports as the magic of their buybacks fully dissipate. The lines of credit would be a nice plus, but the whole notion that WeWork backs out of an IPO now and then gets the big banks back in line once it gets its shit together in a year or two is harder to fathom now that the bloom is coming entirely off the rose and JPMorgan just landed the ARAMCO offering, making Adam Neumann and his problems a mini distraction.
Or WeWork could just make up a new accounting standard, pretend it's profitable and just list this fucker tomorrow.
Who cares, nothing really matters!