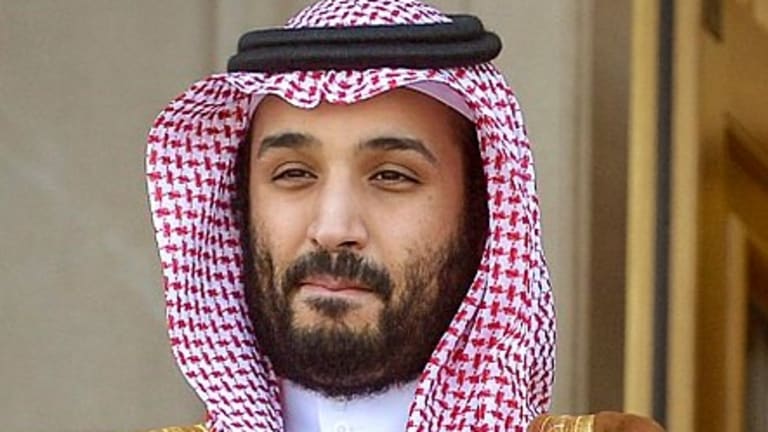 Saudi Aramco Still Not Worth $2 Trillion, No Matter How Much Crown Prince Wants It To Be
Certain bankers might wish to avoid entering any Saudi diplomatic posts for the time being.
American businesses generally, and at the moment one American business in particular, bend over backwards to avoid crossing our future overlords in Beijing. Once again, however, they're showing significantly less fealty to the man providing the precious, gloopy black sludge running through our economic veins.
The crown prince has indicated he wants the IPO to value Saudi Arabian Oil, or Aramco, at $2 trillion. But that target has already met some resistance from company executives working on the planned offering, who have suggested $1.5 trillion is more realistic. That valuation is gaining support among the underwriters who are tasked with drumming up investor interest for the offering, a group that includes JPMorgan Chase & Co., Goldman Sachs Group Inc. and Morgan Stanley among others, according to people familiar with the matter.
This perhaps shouldn't be a surprise: Two years ago, Saudi Arabia also wanted a $2 trillion valuation for Aramco. Those who got as good a look at it as the Saudis would allow said it wasn't worth a riyal over $1 trillion, and maybe actually more like $400 billion, and so the Saudis called the whole thing off. Now, it's apparently worth $1.5 trillion, not a bad return on nothing more than Crown Prince Mohammed bin Salman's force of will and ability to avoid offing any more journalists in gruesome fashion. Still, it might not be enough to keep MBS from taking his ball and going home, no matter how cheap Jamie Dimon and David Solomon are willing to work.
The offering's lead bank underwriters are slated to earn unusually low fees for their work, according to the people. That underscores the banks' bet that working on the Aramco IPO will generate additional future business as a result of Saudi Arabia's continuing diversification efforts…. It isn't clear if MBS would pursue the IPO if Aramco couldn't achieve a $2 trillion valuation.
On the other hand, even though some annoyingly woke investors like Temasek Holdings aren't interested in fossil fuels anymore, and MBS' neighbors are disinterested, and some people who'd like a piece of the action aren't equipped to handle trading Saudi shares, there's always one group Aramco can rely on to bid things up, or else.
The Saudi government is expected to require some members of the country's elite, who had been arrested for alleged bribery in 2017 and held in Riyadh's Ritz-Carlton luxury hotel until late last year and in some cases into early 2019, to buy "large stakes" of the offering to help ensure the IPO's success, according to some of the people.
Bankers Due to Deliver Crucial Aramco Valuation as Soon as Friday [WSJ]