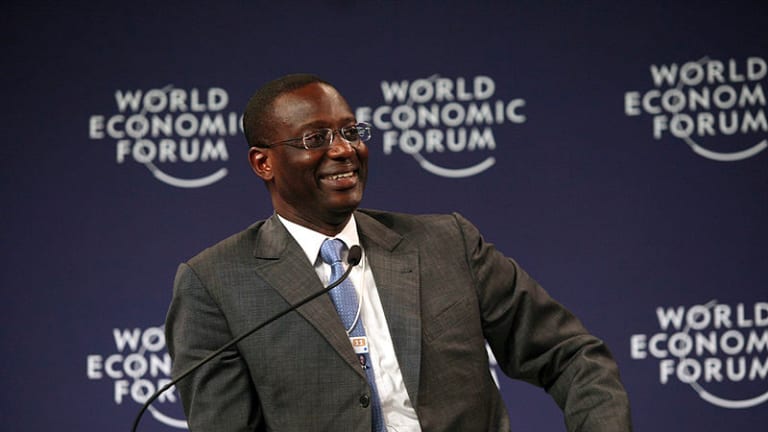 Credit Suisse CEO Definitely Had No Idea His No. 2 Was Tailing His Turncoat Former Protégé, No Sir
Surprise! Tidjane Thiam's been cleared by his bank's probe into some Big Lebowski-esque private investigating.
In the end, loyalty means nothing more than a willingness to fall on one's sword for another, generally more exalted, person. In its absence, can one truly have even been loyal?
This question need no longer be asked of Pierre-Olivier Bouée, as of today the former chief operating officer of Credit Suisse. The official version of the events leading up to both some "temporary arrests" and now Bouée's resignation suggests that the close confidant of CS CEO Tidjane Thiam was so appalled by former wealth-management chief and former fellow Thiam confidant Iqbal Khan's lack of loyalty to the Dear Leader, and possibly by Khan's arboreal conceits, that he, unbidden, sicced some PIs on the man and his family to ensure Khan wasn't sowing further disloyalty among any former underlings he might like to have join him at UBS. What's more, Credit Suisse is absolutely certain that Bouée never mentioned any of this to Thiam, having conducted the following exhaustive investigation.
The lawyer from Swiss law firm Homburger who supervised the investigation, Flavio Romerio, said the review studied company emails and WhatsApp messages between Messrs. Thiam and Bouée in a period from around Aug. 22 to Sept. 23, looking at all communication considered potentially relevant.
Well, that settles it, no? I mean, what's the likelihood that the COO of a bank communicates with his CEO via more than two media? And surely there was no reason to review their correspondence from July 1, when Khan resigned, and Aug. 22. Certainly not in light of the following, about which nothing nefarious or conspiratorial could possibly be said.
The scandal took a dark turn Monday when it emerged an unidentified security consultant who helped the bank hire investigators to trail Mr. Khan died in an apparent suicide last week, a lawyer in Switzerland said…. A spokesman for the Zurich prosecutor's office said Tuesday the investigation is ongoing. About the security consultant's death, the spokesman said there has been no evidence of misconduct or involvement by a third party.
Yup, nothing to see here. Or in any statement from the loyal perpetrator/scapegoat, because one does not appear to be forthcoming.
Mr. Bouée couldn't be reached for comment. He hasn't responded to previous requests for comment over the past week.
Credit Suisse Puts Spy-Scandal Blame on CEO's Top Lieutenant [WSJ]