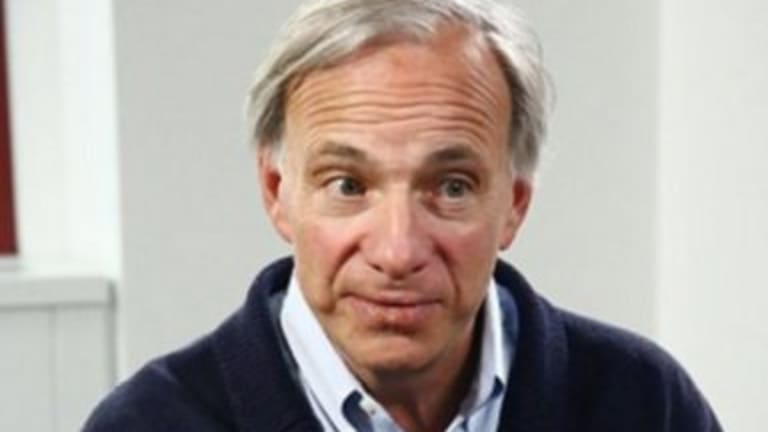 Ray Dalio Descendeth From The Mountaintop With New Principle Chiseled Into A LinkedIn Post
Prepare your minds.
Ray Dalio doesn't have to do this, you know. With all of the money he's made (and continues to make), he could easily spend the rest of his life having dinner and playing parlor games with his buddies, going to Burning Man, admiring Paul Volcker in the quiet solitude of his cave of contemplation/gilded survival bunker, and maybe figuring out what's wrong with Bridgewater. But no: He continues to give. And what he gives, of course, are Principles. And he gives us these Principles, and a path to the Principled Life, in any way he can: the printed page, the television, LinkedIn and Twitter, even Joe Kernan's show. Through these media and many others, one can imbibe the 210 commandments, and their sub-commandments and attendant commentaries and explanations—a veritable contemporary Talmud.
What he has not given us, at least not lately, is a new Principle with a capital "P." And not just some metaPrinciple derived from Already Existing Principles. An honest-to-god, unique and original 211 Principle. And one potentially at odds with an Already Existing Principle, creating the kind of contradictory tension and room for debate that could turn Dalioism into even more of a religion than it already is. Allow the Svengali-philosopher-king-life-coach to explain.
I know that I can sound idealistic when passing along my principle "make your passion and your work the same thing" because one can't always make enough money doing what one is passionate about to pay for what one needs. In fact, my principle could be dangerous advice to young folks who don't have any idea how much money will be required to pay for what they will need in the middle part of their lives….It's a simple fact of life that to have the best life possible you need both enough money to pay for what you need and wonderful work that fulfills you—and that to get these things, you need to give others what they need…. Solving this puzzle, like solving all puzzles in life, is best done by 1) seeking the best advice one can get from the most believable people one can get to provide it, and 2) through trial and error and a lot of determination.
So, without further ado, here it is:
And wouldn't you know that the great man has also given us a real-world example of that Principle in action? Connecticut needs more money to have the better schools it wants. Ray Dalio, as we mentioned, has that money. But in order to get it, Connecticut has had to be creative and flexible with its disclosure and ethics rules, and so it has.
The Partnership for Connecticut has invited the public to the first "organizational meeting" of its governing board on Oct. 18, but it's unclear what portion of that meeting — or subsequent meetings — will be open, or what the board will be discussing…. "Records in the possession of these ex officio members will be subject to disclosure under FOIA in response to a proper request," the website says. "Records within the possession of Board members and staff who are not ex officio members as public office holders are not subject to FOIA."
To have both the money you need and the job you want, you have to be creative and flexible. [LinkedIn]
State's education partnership with hedge fund billionaire Ray Dalio opens first meeting to public, but transparency questions remain [Hartford Courant]