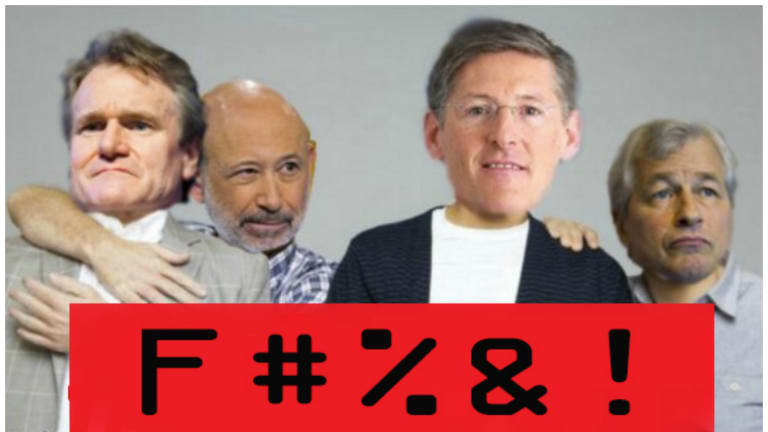 We Ranked Wall Street Banks...By How Much The People Working There Enjoy Working There
Jamie's people are relatively happy while Wells Fargo's people...work at Wells Fargo.
This is not the league table that anyone in a Wall Street C-suite cares about.
Thinknum Alternative Data can track virtually any company's workforce satisfaction rating thanks to Indeed.com, which has nearly a decade worth of anonymous reviews that can be used to gauge how employees feel about management. Here's what it has to say about the biggest banks on the Street:
JPM:
What does it take to keep workers happy on Wall Street? Let's start with investments in technology and new branches. The House of Dimon claims the top spot in our "Happiest Bankers and Traders" informal ranking, with a 3.929 score in Indeed's rankings. That goes along with performance through the first three quarters of the year that hovers around 18%, giving staff something to be happy about. But job postings declined at JPMorgan over the last quarter - so let's check back on Jamie's kids in a few months to see how morale's doing.
Citigroup:
Citigroup comes in a close second, with an Indeed workforce rating of 3.918, hot on Jamie's heels. Citi has posted impressive returns for investors, too, leading all banks with 30% gains this year. This chart tracks workforce ratings over the last couple of years, which has declined less than 0.7 percent.
Bank of America:
Just like JPMorgan, Brian Moynihan's Bank of America has posted 18% share returns in 2019. Unlike JPMorgan, Bank of America's score lags behind our top two consumer banks - its Indeed.com staff rating is 3.844. It warrants saying, at this point, that scores are calculated in Indeed on a 1-5 basis (5 being the highest) so this still reflects a decent rating.
Wells Fargo:
Here goes a shocker: the bank that has been in the spotlight for misdeeds ranging from unfairly repo-ing US military members' autos to signing customers up for new accounts without their consent since the Obama administration comes in last out of the biggest consumer banks in the US. Its rating is below a 3.68, reflecting a 6% drop from its recent peak (which came in summer 2016, just as revelations were breaking that would force John Stumpf into retirement). It's matched by the poorest YTD stock appreciation (8%) out of any of our banks. Wells just went out and got itself another new fall guy for all of its misdeeds - let's see how the rank-and-file receives him.
And then… there's Goldman. There's not much to say that the Wall Street Journal hasn't covered in its piece on the bank's foray into consumer finance earlier this week. And, because the Skrillex of West Street has barely been in the CEO slot longer than a year, it's not fair to foist Lloyd's ratings upon his successor.
So, for now, let's just say that Goldman Sachs' rating isn't determined by Indeed, but instead, by a taking total de-partners, dividing that by the number of individuals currently facing time in Malaysia, and multiplying this figure by the tally of staffers who actually went through with the bank's new sneakers-and-jeans policy. 
Jon Marino is the editor of Thinknum Media.