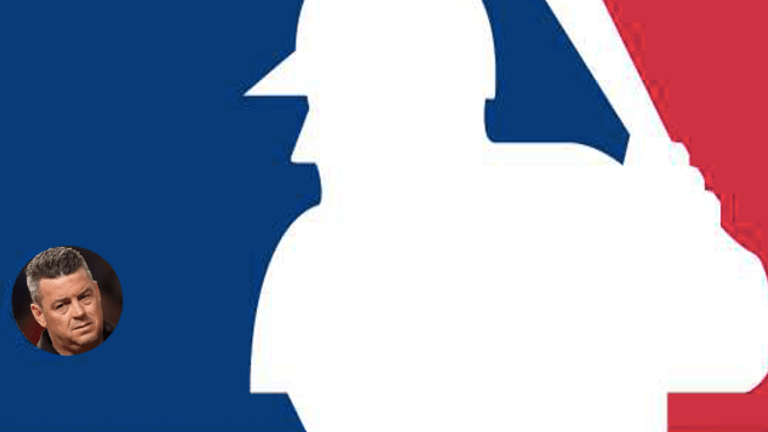 MLB Can Punish Pro-Domestic Abuse Executives But Not Functionally Illiterate Umpires Publicly Eager To Do Some Domestic Terrorism
Today in ironies of organized labor.
It's not unusual to see front office shakeups in baseball at this time of year, but usually it's not a team that's in the middle of participating in the World Series that fires its assistant general manager. Of course, it's usually not the case that an assistant general manager shouts at female reporters about how great it is that his team was able to acquire a domestic abuser, nor is it usually the case that a team's response to such a situation would be attempted gaslighting.
So, Brandon Taubman is unemployed now, but the second-biggest embarrassment in baseball this week, umpire Rob Drake, will continue to draw a paycheck from MLB.
Drake probably owes Taubman an Edible Arrangement or something, because without the misogyny and subsequent nefarious corporate behavior, he'd probably be in a fair bit more hot water for having tweeted, "I will be buying an AR-15 tomorrow, because if you impeach MY PRESIDENT this way, YOU WILL HAVE ANOTHER CIVAL WAR!!! #MAGA2020"
Lucky for Drake, not only was there a bigger story of hideous white male behavior this week, but he is part of a union, and unions exist to protect their members, sometimes from themselves. That's how you can wind up with the hypocrisy of the Major League Baseball Umpires Association, the sports equivalent of the Police Benevolent Association, which four months ago offered an unhinged take on Manny Machado's one-game suspension, presented with a variety of nonsensical hashtags and including an extraneous apostrophe in the phrase "for the good of it's employees."
"Violence in the workplace is not tolerated, and offenders are dealt with severely and even made examples of," the umpires' union said in June. But when one of the union's members wrote publicly about his plans to buy an assault rifle to prepare for "CIVAL WAR," the subsequent statement was quite different, calling Drake "an outstanding umpire." That claim would go against Major League Baseball's evaluation of Drake, who was not among the 48 umpires – nearly two-thirds of the major league umpire roster – given a postseason assignment this year.
Drake's MLB bio notes that he "is a co-founder of Calling For Christ, a professional umpire ministry." On its website, Calling For Christ bills an annual fall retreat "on a beautiful ranch which allows umpires to relax, and reflect on Jesus. You will hear live music, hear from various speakers, as well as enjoy; fishing shuffleboard, billiards, playing cards. It truly is a blast!" And there's a video of highlights from the 2017 retreat, which indeed does look like fun – there's even a magician! – and also, at the three-minute mark, some… oh, there's some light gunplay, surely very spiritual in nature.
But hey, these guys are in a union, and that means that when they screw up and go tweeting when they shouldn't about buying assault weapons so they'll be ready to take up arms against… properly functioning constitutional processes? … someone is there to look out for them. Because the words of Drake's impressively comprehensive and responsible apology read a lot more like they came from the union lawyer helping him out as MLB investigates the tweet than from a guy who talked not only about "CIVAL WAR," but called the impeachment inquiry "rediculous" and referenced goings-on at "Capital Hill."
Get yourself in a union, because someday, you too may do something that is breathtakingly stupid and offensive, and you'll need some support. Also, dental plan.