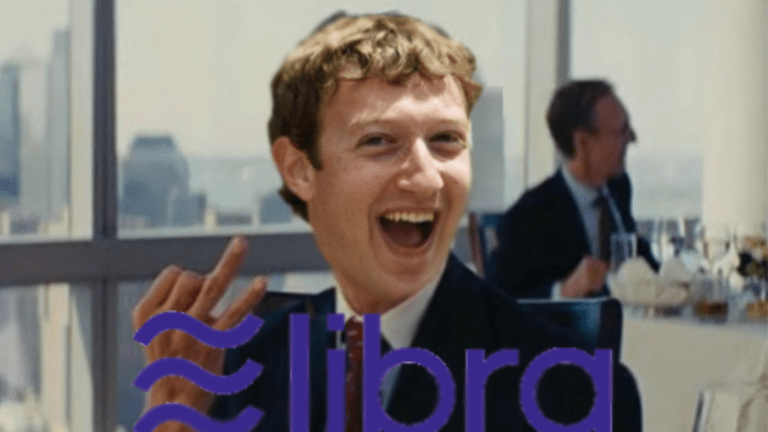 Opening Bell 10.10.19
There will be blood ...
Start your day with the Opening Bell powered by The Water Coolest. The Water Coolest is the preferred bathroom stall reading material of finance professionals. Sign up for the free daily newsletter.
GET THE BOOSTER SEAT READY
Zuck will get his day in court, er Congress, on October 23rd, as he's been asked to testify in front of a House panel regarding Facebook's cryptocurrency, Libra. He'll be tasked with convincing the committee that rolling out a worldwide cryptocurrency is kosher. 
The haters will argue that international crime lords and your local pot dealer alike will use the crypto for nefarious purposes. Shout out Silk Road. And the committee will almost certainly focus on Facebook's checkered privacy record *cough* Cambridge Analytica *cough*.
The EU has similar concerns. Governments across the pond believe that Libra will undermine the euro and be used as a money-laundering tool. Apparently, HSBC, ING, and Danske Bank are scared of a little competition. 
Why is this a BFD?
Zuck and his comrades plan to meet in Geneva next week (before his hearing) to discuss the project, appoint a board to oversee it and presumably take some sort of blood oath sacrificing their firstborn to Zuckerlord. This will be a real test of the companies' commitment to the cause.
You might remember that PayPal (ever heard of them) bailed on the project just last week. If more major partners follow suit, this thing could start unraveling more quickly than things did between Mark the Winklevii. Too soon?
The bottom line ...
Zuck has promised that if the US government can't get on board with Libra he'll pull the plug … which is not very cypherpunk of him at all. The next few weeks may ultimately decide whether Zuck moves forward with his decentralized currency … or just goes back to doing what he does best: smoking meats.
Oh, and HODLers, you might want to tune in to C-SPAN on the 23rd as Uncle Sam's remarks could shift market sentiment on actual cryptos as investors look for clues regarding mainstream acceptance.
Facebook CEO to Testify at House Panel About Libra  [WSJ]
IN OTHER NEWS
- Ken Fisher pointing to himself: "This guy f*cks." [Bloomberg]
- Greece has entered the chat [WSJ]