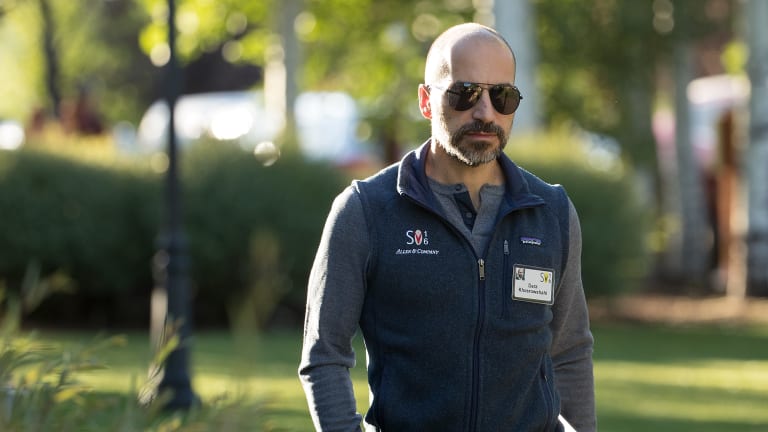 Opening Bell 10.14.19
Uber diversified ...
Start your day with the Opening Bell powered by The Water Coolest. The Water Coolest is the preferred bathroom stall reading material of finance professionals. Sign up for the free daily newsletter.
SPECIAL DELIVERY 
Uber announced that it will take a majority stake in grocery delivery company Cornershop, an on-demand delivery service for grocery stores, pharmacies, and food retailers in Chile, Mexico, Peru, and Toronto. 
The size of the stake wasn't disclosed but Cornershop was almost purchased outright by Walmart for $225M before the deal was bagged by Mexican antitrust agencies. 
Trendsetters
Uber is following suit in the latest trend of delivery services bridging the gap between grocery stores and their customers in a more cost-effective manner. Postmates recently partnered with Walgreens to deliver Plan B, Juul pods and Pedialyte in New York City, and DoorDash inked a deal to become Walmart's courier of choice.
Expanding
Unlike its delivery competitors, Uber is looking to fulfill a grand vision of becoming the on-demand service for your life. Think hotel concierge on steroids. In addition to its wildly unprofitable ride-sharing service, UberEats' orders doubled last year, and the company launched a gig-work app just last week.
The bottom line ... 
The cost of delivering products to customers' doors is much higher than poorly compensated delivery drivers would indicate. More and more retailers and grocers will need to partner up with delivery services, as it could be the only cost-effective way to ship useless stuff millennials are too lazy to leave the house for. Enter Uber, which is making a concerted effort under CEO Dara Khosrowshahi to diversify and build out product offerings that are ... wait for it ... actually profitable. There's a novel concept.
Uber to Acquire Majority Stake in Grocery-Delivery Service Cornershop  [WSJ]
IN OTHER NEWS
- SoftBank is about to bail out Adam Neumann ... because of course it is [WSJ]
- Ken Fisher can't figure out why everyone is getting their panties in a bunch [CNBC]