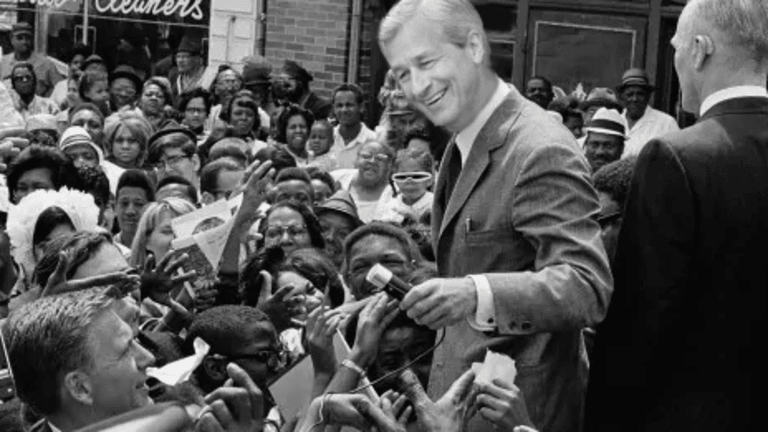 Opening Bell 10.16.19
Jamie flexed on 'em ...
Start your day with the Opening Bell powered by The Water Coolest. The Water Coolest is the preferred bathroom stall reading material of finance professionals. Sign up for the free daily newsletter.
LEAGUE TABLED
Yesterday eleven S&P 500 company's dropped Q3 earnings. Nine out of the eleven firms beat earnings estimates … and then we have Goldman Sachs and Well Fargo.
One of these is not like the other ...
Gary Cohn not becoming either company's CEO isn't the only thing that Goldman and Wells have in common anymore … they both had abysmal Q3s. We're talking "Jets without Darnold" bad.
Wells was plagued by lingering issues stemming from the fake account scandal (shocker), with the company logging a $1.6B charge related to legal costs. And Jerry Interest Rates and the Fed didn't exactly do WF any favors. Falling interest rates weighed on profits as net interest margins fell to 2.66% from 2.82% over the same period last year. 
EPS came in at 92 cents vs. an expected $1.24. Still, shares rose on optimism surrounding incoming CEO Charles Scharf. Scharf reports for duty next week.
Goldman, on the other hand, was curb-stomped by a bunch of dweebs with Computer Science degrees and "Dungeon Master" on their resumes. Despite leading the Street in IPO fees, merger and stock underwriting revenue fell 18% as Silicon Valley began to pump the brakes on public offerings. Exhibit A: no WeFees.
DJ D-Sol and his disciples also took a $267M loss on their stake in Uber and an $80M paper loss on WeWork. Mounting costs associated with Solomon's vision for more "diversified" Goldman (think: Marcus, wealth management, high-speed trading) also ate away at the bottom line.
Meanwhile at JPM (and Citi)
Less susceptible to volatile market swings, JPMorgan's consumer bank put the firm on its back, adding new deposits on its way to extending its 4-year streak of climbing net interest income. JPM shares matched their all-time high, rising more than 3% on the day.
Citigroup also reported an earnings beat on the strength of its fixed-income, currency and commodities trading divisions. CEO Mike Corbat had this to say: "They had us in the first half, I'm not going to lie." Shares rose 1.4% on Tuesday.
The bottom line ...
Maybe, just maybe, earnings season isn't going to be as much of a bloodbath as all of the bears thought. 
Earnings season gets off to a great start with only two misses [CNBC]