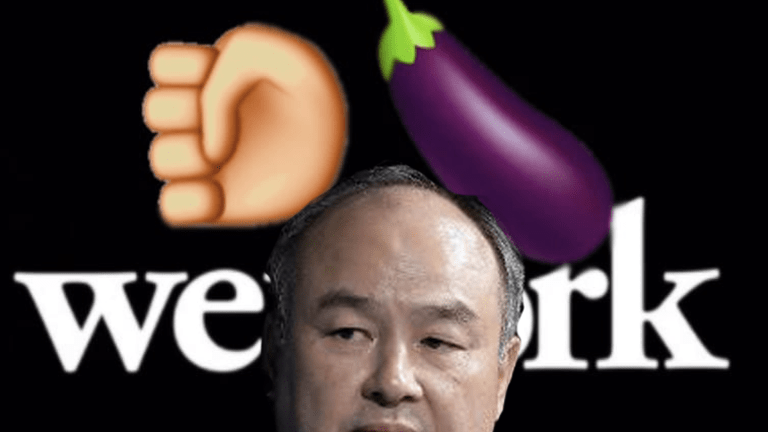 Opening Bell 10.22.19
"Who's your daddy?" - Masayoshi Son to Adam Neumann
Start your day with the Opening Bell powered by The Water Coolest. The Water Coolest is the preferred bathroom stall reading material of finance professionals. Sign up for the free daily newsletter.
THE PRODIGAL SON
Masayoshi Son and SoftBank are bailing out WeWork with an investment expected to be worth between $4B and $5B, comprised of new funding and existing shares. After the investment, SoftBank and Son(s), not its investment arm Vision Fund, will own more than 70% of WeWork. Unsurprisingly Vision Fund partners wanted nothing to do with the flaming pile of dog sh*t.
SoftBank is lending WeWork $5B as part of the deal while accelerating a $1.5B equity investment that would have taken effect next year. There are also plans to buy up more than $1B in stock currently owned by other investors and employees. 
The other shoe drops
While an investment for WeWork is good news, considering its runway is no more than a few weeks, there is some bad news. The co-working company is now valued at less than $8B. If you recall, and we do, the firm wanted to go public last month with a valuation of almost $47B. Just a bitttt outside.
The bottom line ...
Moving forward, WeWork will need a miracle worker to save it from itself and it looks like Marcelo Claure drew the short straw. Claure, an executive at SoftBank, will likely become WeWork's new chairman. 
Claure is filling the role most recently occupied by Adam Neumann, whose stake in his former firm will fall into the low double digits should the deal go through. Nothing a quick private jet ride to Europe and a whole buncha weed won't fix.
Report: SoftBank is taking control of WeWork at an ~$8B valuation [TechCrunch]