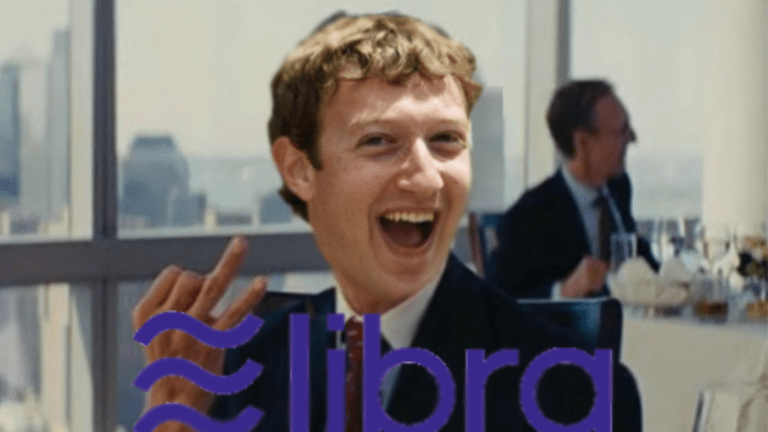 Opening Bell 10.24.19
Sucks to Zuck ...
Start your day with the Opening Bell powered by The Water Coolest. The Water Coolest is the preferred bathroom stall reading material of finance professionals. Sign up for the free daily newsletter.
NERD BASHING TIME
In what was presumably his toughest interrogation since Rashida Jones was part of the opposing counsel, Mark Zuckerberg faced questions from the House Financial Services Committee regarding Libra ... and pretty much everything else he's done wrong in his entire life.
What did they talk about?
During his 6 hours on the hot seat in DC, Zuck faced countless questions regarding his crypto project including, but not limited to ...
- Why should we trust Facebook (we didn't forget about Cambridge Analytica)?
- Why will Libra be HQ'ed in Switzerland?
- Will the currency make the US dollar irrelevant?
- Why do you want to help terrorists launder money?
- And most importantly, how does it work?
Despite what we can only assume was a Herb Brooks-like pep talk from Sheryl Sandberg, at one point Zuck admitted: "I don't know if Libra is going to work, but I believe in trying new things." Dumbest smart guy EVER. 
For the most part though, Zuck stood his ground and answered, for lack of a better word, like a robot. Well-rehearsed statements about Libra "extending America's financial leadership" made all 7 C-SPAN viewers swoon. Sean Parker would be proud.
What else did they talk about?
But it wasn't all blockchain and Zuck Buck references. Members of Congress also took the opportunity to ask about things they don't really understand ... like deepfakes, fact-checking and the 'book's encryption changes.
The bottom line ...
Lawmakers really, really don't like Libra. And Zuck agreed that if he couldn't get Uncle Sam's approval he'd shelf the Libra project. So, the odds of you buying a kidney on the black market with Libra any time soon are slim to none.
Still, Wall Street liked what it saw from Zuck. Shares rose more than 2%, starting their ascent just after the testimony began.
Zuckerberg Gets Thrown a Long List of Grievances by Congress  [Bloomberg]
There's plenty more where that came from. Sign up for The Water Coolest today to get the free daily newsletter delivered to your inbox daily.