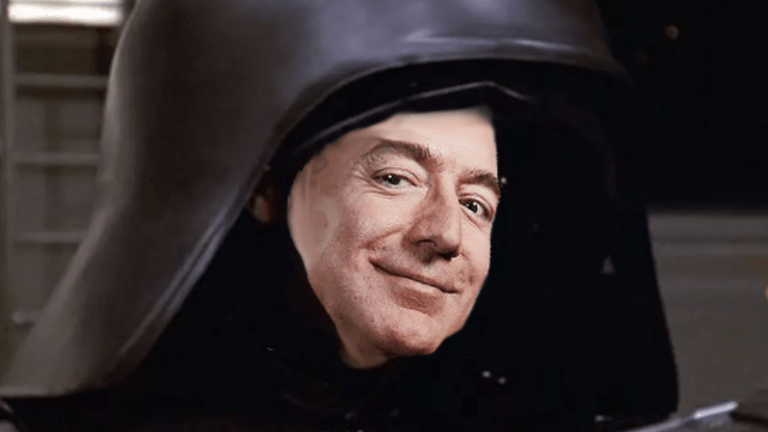 Opening Bell 10.28.19
The force is weak with this one ...
Start your day with the Opening Bell powered by The Water Coolest. The Water Coolest is the preferred bathroom stall reading material of finance professionals. Sign up for the free daily newsletter.
BAD FRIDAY
Jeff Bezos had a worse start to his weekend than anyone who got pulled into a 4:30 PM Friday meeting resulting in "action items." In the long battle for the right to be the cloud host for the US Department of Defense, Amazon came in second. Who won? Amazon's neighbor, a little company called Microsoft. Ever heard of it? 
The Joint Enterprise Defense Infrastructure deal, also known as JEDI, could be worth as much as $10B for Satya and the Microsoft gang. If the entirety of the contract is fulfilled, it'll be a huge W for Microsoft's Azure hosting service, which currently trails Amazon's AWS in the cloud arms race.
Underdogs
From the beginning, Amazon was considered to be the favorite to win the business, especially considering it won a deal for AWS to work with the CIA back in 2013. Amazon has also been certified at the highest security level, while Microsoft has been looking to catch up in that department. 
Jeffrey's bad day gets worse
As if losing out on a multibillion-dollar deal wasn't enough to ruin Bezos' weekend, Jeffrey Commerce briefly became the "second richest person in the world" on Friday.
After missing the mark on earnings Thursday, Amazon shares fell 7%, putting a dent in Bezos' fortune. The brief tumble allowed a man who drinks water made from #2 ... Bill Gates himself, to take over the top spot. 
The clouds part
Jeff's bad luck didn't last long, by the end of the day Friday, he'd regained his #1 spot, with a net worth of $109.9B, while Bill Gates was in the rearview sitting on $105.8B.
As for their respective companies, Microsoft's selection by the DoD means that the door has likely cracked open for it to win more government contracts, helping its cause in the battle with Amazon. Amazon, on the other hand, will have to go all Aaliyah, and dust itself off and try again, if it wants to continue to solidify its place at the top of the cloud hosting market. 
The bottom line ...
As the cloud wars heat up, investors can expect both Amazon and Microsoft to continue to push the envelope when it comes to hosting capabilities, which will undoubtedly move the stock price needle. The DoD deal, which was announced after markets closed sent MSFT shares up 3% after hours.
Microsoft snags hotly contested $10 billion defense contract, beating out Amazon [CNBC]
There's plenty more where that came from. Sign up for The Water Coolest today to get the free daily newsletter delivered to your inbox daily.