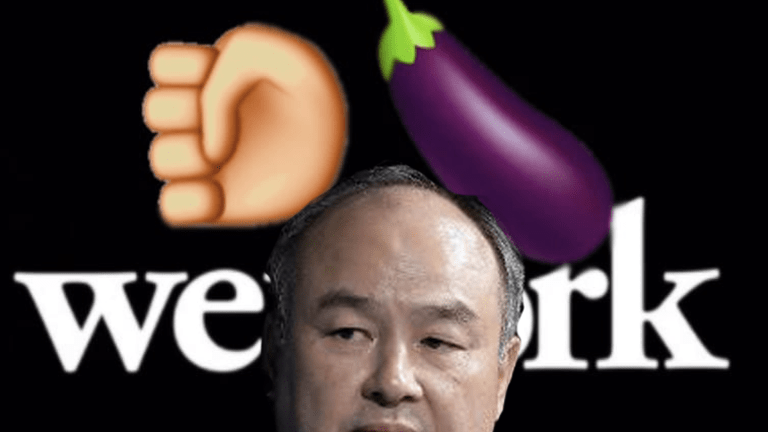 Frankenstein Reportedly Nearing Deal To Rescue His Monster At A Sub-$8 Billion Valuation
SoftBank is ready to admit that it needs WeWork to survive.
Not to get ahead of ourselves, but we think it might be time for someone to stand up and mention that the whole "WeWork IPOing at $47 billion valuation" thing did not go very well.
Instead of everyone getting really rich, WeWork is in the death throes section of a tailspin, and its investors are mulling over just how wide the blast radius will be on a startup that they pumped full of tens of billions of dollars without really thinking it through. And no institution is more aware of getting its face blown off by the explosion of what is essentially its own creation than SoftBank.
Masayoshi Son and Adam Neumann are essentially soulmates: A man who loves nothing more than using volumes of money to test the boundaries of financial logic, and a messianic new-age tech founder who seems to have genuinely thought that he was going to become a trillionaire by running a company that didn't turn a profit. But instead of coming together to change the future, these two are looking at a burning mountain of money that represents their mutually-assured destruction while a super pissed-off Wall Street looks on waiting for SoftBank to do what's right and pump more money into a thing that everyone knows should not live but cannot die.
SoftBank Group Corp. is assembling a rescue financing plan for WeWork that may value the office-sharing company below $8 billion, according to people familiar with the discussions.

The new figure is a fraction of the $47 billion valuation the startup commanded as recently as January. The talks are fluid and the terms could change, said the people, who requested anonymity because the discussions are private.
Instead of letting the undead monster bang around as it feels its life slowly seep away, knocking over bank earnings, a few commercial real estate markets and SoftBank itself, Masa Son is going to graft some new body parts onto WeWork and give it a fresh jolt of electricity.
JPMorgan has been pitching investors on a $5 billion junk-debt package for WeWork. The unsecured and secured notes portion of the bank's plan are being offered on a "best-efforts" basis, according to people familiar with the matter, meaning banks haven't committed to funding the deal irrespective of investor demand.

The bank has been sharing its proposal with about 100 investors as it tries to line up support for what would be one of the riskiest debt offerings in recent years, people with knowledge of the matter said earlier this week.
And Igor is going to help! JPMorgan also needs WewOrk to die more slowly, maybe getting some help to cut off some pieces that it can clean up and sell back on the gravedigger market. This is not a bad plan considering that, as we said, real estate guys in NYC especially would like WeWork to not go bankrupt in an afternoon and turn the CRE market's leverage upside down. In fact, one NYC real estate guy went on CNBC this morning to proclaim that WeWork is "a real company."
Which is both a withering statement about a company that was for almost $50 billion a few weeks ago, but also a beatific blessing on a monster that just wants to be recognized by its creators.
SoftBank Eyes WeWork Rescue Valuation Below $8 Billion [Bloomberg]