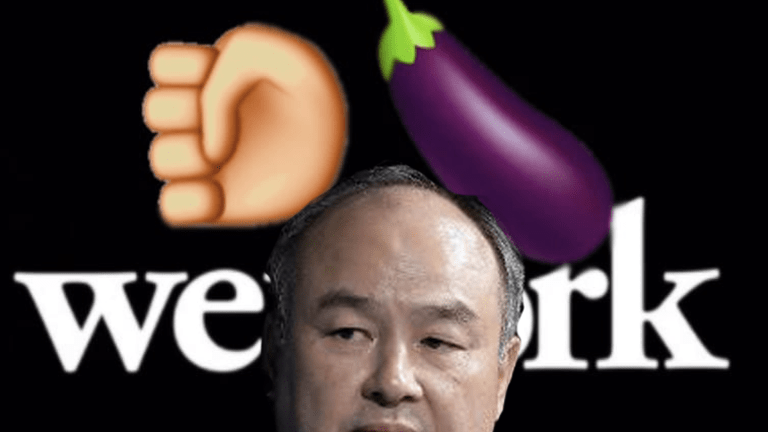 Masayoshi Son Ready To Bring His Total Investment In WeWork To $15 Billion...At An $8 Billion Valuation, Because YOLO
SoftBank is ready to fix WeWork because co-dependent relationships are toxic.
WeWork is a shiny, famous, charismatic startup with terrible personal habits and an uncertain future. SoftBank is the sad finance bro who just knows in his heart he can save her. And like every scenario in which someone too needy hooks up with someone with too much to give, there are no winners, only sadness:
Softbank will take control of embattled company WeWork, according to people familiar with the matter.

Softbank, led by Japanese billionaire Masayoshi Son, plans to spend somewhere between $4 billion and $5 billion on new equity, existing shares, sources say. The deal will value WeWork between $7.5 billion to $8 billion and could be announced as soon as Tuesday.
Those numbers don't look that bad until you remember that SoftBank has already sunk more than $10 billion into A̶d̶a̶m̶ ̶N̶e̶u̶m̶a̶n̶n̶'̶s̶ ̶f̶a̶m̶i̶l̶y̶ ̶o̶f̶f̶i̶c̶e̶ WeWork, bringing the company's total investment to likely more than $15 billion...at an optimal valuation of $8 billion. We're not quants or anything, but it seems to us like that math sucks ass.
And what does Masa Son even do with this thing? Sure, he kind of needs to bail it out at this point but how does the world's greatest living financial performance artist put Adam Neumann's co-working Humpty Dumpty back together again? Bring Neumann back to find a new vein of new-age bullshit to peddle in lieu of profits? pivot to platform CRE lending with free cold brew? Start growing weed?
Softbank exec Marcelo Claure will be involved in the company's management, while former CEO Adam Neumann's stake will fall to low double digits.
That's not not a start...
JPMorgan is still expected to make its own offer at a shot to rescue WeWork, but will it really? And also, why?
We're sure we'll be talking about this nonsense all week!