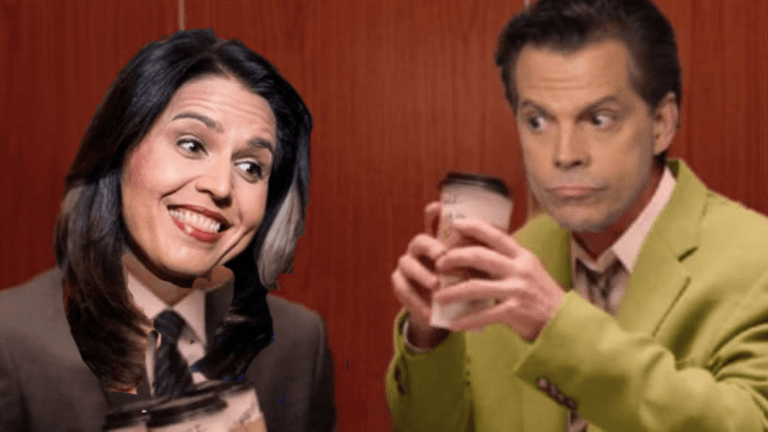 Desperate For Liberal Support, Democratic Nominee Tulsi Gabbard Meets With Wall Street Money Men At Anthony Scaramucci's Restaurant
Yeah, we don't understand what the hell she's doing either.
Tulsi Gabbard is a Democratic candidate for President. She's from Hawaii, a member of the US House of Representatives and pretty much despised by the left and most of the center of her own party. Her views have been mocked as proto-Russian, she's tussled with Hillary Clinton, been called an apologist of the Assad regime, and many assume her to be a Republican in a thin Democratic disguise.
Best case scenario politically, Gabbard can prove she's an actual centrist and work hard to generate enough goodwill from Democratic moderates in hopes that the primary swings back from the left and towards the center as the party embraces its need to defeat Trump. So, let's see what her plan looks like...!
Per [who else?] our beloved Charlie Gasparino:
Tulsi Gabbard, fresh off her nasty tussle with former first lady, secretary of state, and 2016 Democratic nominee, Hillary Clinton, was given a hero's welcome at a meeting with Wall Street executives and potential donors on Wednesday evening in New York City that took place at Anthony Scaramucci's Hunt and Fish Club restaurant, FOX Business has learned.
Wow. That's a bold strategy. 
Scaramucci, known as the "Mooch," is a hedge fund salesman and short-lived communications director for the Trump administration before flaming out and transforming himself into a fierce Trump critic. While he wasn't in attendance, according to people with direct knowledge of the event, about two dozen Wall Street executives sat for the off-the-record meeting with Gabbard that was hosted by Robert Wolf, himself a prominent Wall Street Democrat (golfing buddy of former President Barack Obama) and past chief of Swiss bank UBS' U.S. operations.
Hmm. Did she maybe try to get tickets to "Hamilton" in order to give the appearance of a powerful liberal but got lost in Times Square? Maybe this is salvageable...
"Tulsi is a rock star," said one Wall Street heavy hitter who attended. "She's warm and smart, people in the room loved her."
Oof.
Wall Street needs a Democratic candidate but like a real one.
Tulsi Gabbard, amid Hillary Clinton tussle, hits Wall Street fat cat syndicate [FoxBiz]