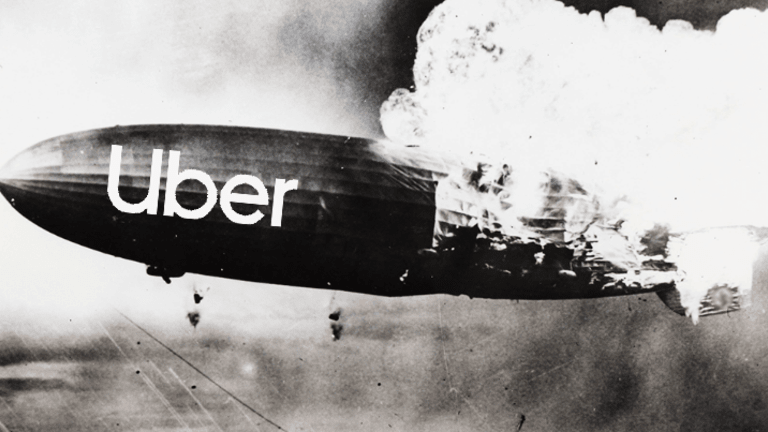 Area Company With $4 Billion In Debt And Annual Losses Of $3 Billion Would Like To Sell You A Credit Card
Nobody handles money like Uber, so Uber needs more money to handle.
At the risk of engaging in hyperbole, we're going to make the bold statement that Uber does not have the most sterling record of financial decision-making.
From the Travis Kalanick days of total assclownery, to its still-massively-debt-fueled financial structure, to the IPO, and up until today's profit plan of spending money to enter as many business lines as possible while hemorrhaging money on giving rides in cars, Uber has made some very strange calls. The kind of calls that result in multi-billion annual losses and a stock price that is still 25% below its IPO price.
So, there is really only one thing for Uber to do at this point that makes any sense whatsoever...
The company announced on Monday the formation of a new division called Uber Money to house its efforts, which include a digital wallet and upgraded debit and credit cards. The emphasis, at first, will be expanding Uber's efforts to give its 4 million-plus drivers and couriers around the world access to a mobile bank account so they can get paid after each ride, according to Peter Hazlehurst, who will head the new division.
Because if you can't properly handle your own money...
Uber is rolling out globally a debit card with an enhanced "instant pay" service it has been testing in the U.S. and a few other markets. The feature has taken off in the U.S, with more than 70% of driver payments made using instant pay, according to Hazlehurst. It is essentially a no-fee banking account, with the debit card in the U.S. linked to an account provided by Green Dot.
Credit cards are a hip new trend for Silicon Valley darlings, but even those ego mutants are aware that they need to partner with a solid Wall Street bank to make things look kosher...
For riders, Uber's credit card, a joint product with Barclays, will be reintroduced with richer rewards for payments within Uber's transportation and food delivery services.
Umm. We'll put this in a way that Uber might understand: Your new driver has a very low stars rating.
Uber announces deeper push into financial services with Uber Money [CNBC]