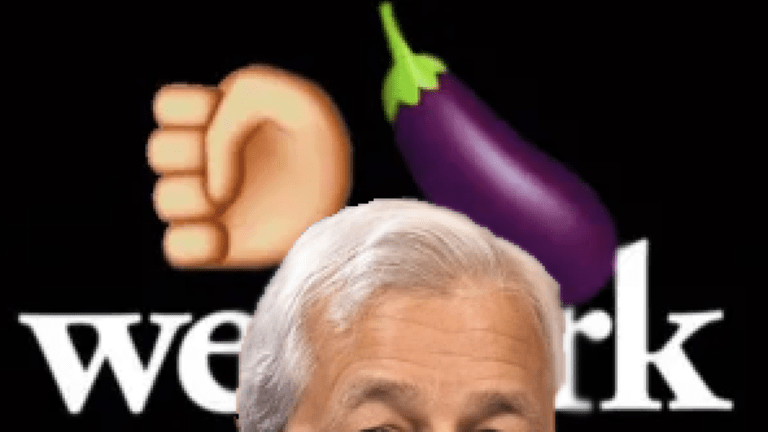 WeWork Asking Jamie Dimon "Why Stop Now, Baby?"
What's left of We is hoping JPM will pony up $2 billion to keep the kombucha taps running, but that would almost certainly come with Dimon-strenght strings attached.
It hasn't even been a week since WeWork officially pulled its IPO, but the new CEOs reportedly have a plan to keep elevating the global consciousness and not, like, go fully bankrupt. 
And, according to a scoop from the NY Post, part of that plan is very, very bold:
WeWork is in talks with banks including JPMorgan to arrange financing that could help the office-sharing company stave off a looming cash crunch, The Post has learned.

The cash infusion for WeWork's parent We Company — which was forced earlier this week to cancel an initial public offering that had been targeted to raise $3 billion — could come in the form of either debt, equity or a combination of both, a source close to the situation said.
So while Jamie Dimon will likely miss out on his dream second-act as Adam Neumann's personal family banker, it appears that he is being granted the cherry opportunity to bail out Neumann's prodigal startup. Considering that WeWork was looking to lock down $6 billion in loans once it IPO'ed, it makes total sense that it finds itself in need of at least a few billion bucks right now. And when you factor in that JPM emerged as the one bank that fully bought and sold Neumann's WeNarrative, it's not hard to reason why Artie Minson and Sebastian Gunnginham are turning to Team Dimon for a bridge loan. But is Wall Street still really interested in throwing more money at America's most infamous startup?
The talks, which also are getting participation from Goldman Sachs, are still in the early stages and are fluid, sources cautioned. According to one source, one option has the banks arranging a loan as big as $2 billion or more.
Lol. DJ D-Sol lending money to WeWork does not seem to fit with what he's trying to do at Goldman right now...unless he's going to do it via an agreement that guarantees every surviving WeWork employee open and fund a Marcus account.
It's also apparently quite clear that SoftBank is going nowhere near this, likely because WeWork already has most of Masayoshi Son's money, and by "has," we, of course, mean "spent." Neumann was the one who managed to seduce the world's greatest living financial performance artist with his Millennial global hipster nonsense, so the one silver string of that magical alliance is also now severed. But what is still interesting in the SoftBank/WeWork separation is how much influence Tokyo will still exert over a company that would be borrowing billions from a quiet unassuming type like Jamie Dimon.
Factoring in that WeWork has made Jamie look pretty bad in recent weeks [a dangerous move in any era, but especially at this "legacy building" juncture of Dimon's career], it stands to reason that SoftBank will take a backseat to the torrent of "strong advice" coming from Park Avenue about how to right the sinking ship that is WeWork. That doesn't augur well for Minson and Gunningham, who are hand-picked successors to still-Chairman Neumann and neither of whom have real estate or investment banking backgrounds. $2 billion isn't a dangerous amount of money for JPM to dole out, but it does follow a litany of other arrangements that the bank has with WeWork and/or Neumann [who can tell what's what at this point?] meaning that this could be the inflection point at which WeWork 2.0 becomes JPM's problem to solve. And if that is the case, we have four words for you: WeWork CEO Matt Zames.
Because, why not?
WeWork is in talks with JPMorgan to head off a cash crunch [NYP]