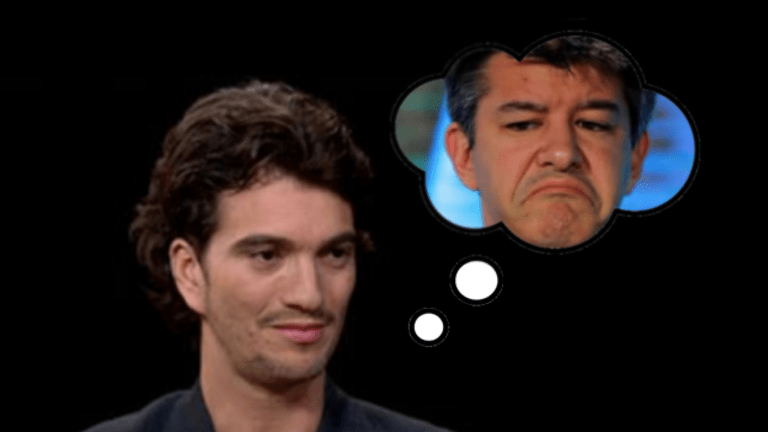 Man Who Drank Tequila And Smoked Pot Barefoot On Company Jet Allegedly Thought Maternity Leave Was Paid Vacation
The Adam Neumann platinum parachute lawsuits are coming in hot, and the first one is a doozy.
When SoftBank paid Adam Neumann more than one billion actual dollars to just leave what was left of WeWork alone, and then made it rather clear it was going to start laying off WeWork employees by the thousands, it occurred to us rather quickly that there would probably be some lawsuits.
Little did we think that the first lawsuit against Neumann would be such a genuine doozy. Per a press release:
Today, Wigdor LLP filed the attached Class Action Complaint with the Equal Employment Opportunity Commission ("EEOC") on behalf of Medina Bardhi, former Chief of Staff to embattled and recently ousted WeWork CEO Adam Neumann, alleging claims of pregnancy discrimination, gender discrimination, unequal pay, and retaliation against WeWork, Mr. Neumann and WeWork's Chief Legal Officer Jennifer Berrent. Ms. Bardhi has filed the complaint on behalf of herself and a class of similarly situated female WeWork employees.
Based on the timing, this suit could just be sour grapes about Neumann walking away a billionaire from a smoldering ruin full of soon-to-be-unemployed that trusted him to run the company. Are there any details that might help prove this is not the case?...
As alleged, during Ms. Bardhi's more than five years at WeWork, she gave birth to two children while serving as Mr. Neumann's Chief of Staff. Like clockwork, each time Ms. Bardhi returned to work following her maternity leave, WeWork's management transparently and systematically marginalized and discriminated against her by drastically and materially reducing her role and/or demoting her outright. Moreover, as alleged, each time Ms. Bardhi disclosed her pregnancy to Mr. Neumann, WeWork began to search for a permanent replacement for Ms. Bardhi (and not merely temporary coverage while she was on legally protected leave), and ultimately replaced her with less-experienced and under-qualified males.
Those are pretty detailed details...
The Class Action Complaint also alleges that Mr. Neumann repeatedly disparaged and characterized Ms. Bardhi's maternity leave as "retirement" and "vacation" — comments that were often made in the presence of other WeWork executives as well as fellow pregnant employees or new mothers, and which clearly demonstrated Mr. Neumann's discriminatory attitude towards women who become pregnant and take maternity leave while employed at WeWork.
As are those. 
While fully aware that this lawsuit is merely allegations, we have to say that we don't have to stretch our imaginations too hard to picture a barefoot Adam Neumann standing on the tarmac at Teterboro with a half-empty bottle of tequila in one hand, a bespoke banana leaf marijuana cigarette between his teeth, yelling into his iPhone that he needs an assistant who won't keep having babies so that he can focus on work, like flying to Hawaii with his five children so that he could surf with Laird Hamilton and use WeWork funds [ie, probably SoftBank's money] to invest in Laird's superfood startup. 
The delusionally self-righteous hypocrisy that it would take to be this tone-deaf towards a pregnant subordinate in 2019 at a company like WeWork is at such a high level that we have only seen it reached by a precious few. One of those few happens to be Adam Neumann at WeWork.
These lawsuits are likely going to plague Neumann for a few years, which would be extra bad if an allegation like this turns out to be true. But still, if this is one case of Neumann mistreating one employee, he might be able to wriggle free again, just as long as gender discrimination wasn't a hallmark of his management style...
Ms. Bardhi also alleges that WeWork's female employees are systematically paid less than male employees despite performing the same or substantially same jobs, and in fact, a male employee who replaced Ms. Bardhi as Mr. Neumann's Chief of Staff while she was on maternity leave received a salary that was nearly three times as much as Ms. Bardhi was earning for performing the same position.
Oh man, we're going to be doing a lot of these posts, aren't we?