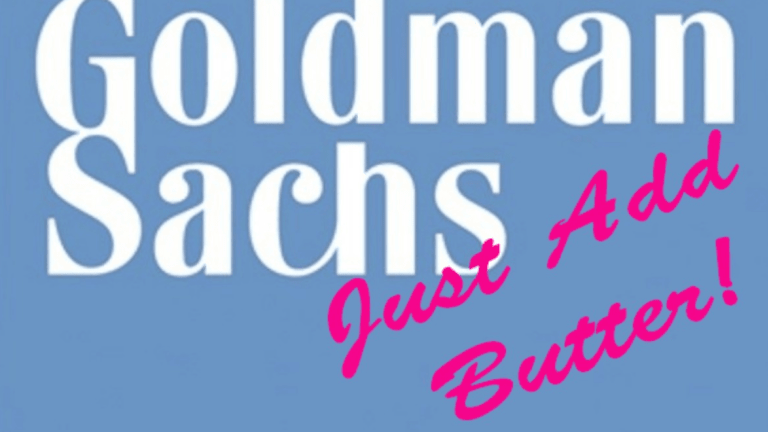 More Senior Traders Are Taking Their Butter And Going Home* From Goldman Sachs
*"Home" in this case being BlueCrest Capital Management.
We've talked a lot about DJ D-Sol's culling of the trading floors at 200 West Street in the last year or so, removing a very volatile part of Goldman's business and making room for a newer, younger, cheaper generation of Goldmen to focus on things like dealmaking, Marcus and the Apple Card.
Regardless of anyone's feeling on sectarian violence, the shrinking of Goldman's trading operation (and partnership ranks) has been objectively effective, claiming major scalps from almost facet of the operation in a seemingly endless parade of carnage. John Waldron's megadeath routine has not slowed down though, and now Goldman is starting to see a trend in departures following the early October announcement that "Mr. Just Add Butter" himself, former co-head of trading Pablo Salome would be joining up with Citadel. And now another big name is already following him out the door:
As managing director promotions approach at Goldman Sachs, some people at the firm aren't waiting around to see who's on the list. Especially, it seems, if they work on a rates desk.

In the past month, Michael Graham, a Goldman MD and head of emerging markets rates for Asia Pacific excluding Japan, joined Citadel as a portfolio manager. 
But Goldman traders fleeing into the capricious arms of Ken Griffin is one thing [everybody in finance quits their job to work for Citadel at least once in their life], it's the secondary narrative that should give Goldman real pause:
And Nishad Potdar a rising star G10 rates and FX trader joined BlueCrest. Both were based in London.

The exits follow numerous others from the rates desk earlier this year and in 2018, with BlueCrest a particular theme. Three Goldman traders joined BlueCrest in March this year: Dan Bitel, Goldman's head of European swaps trading, left to join BlueCrest despite only being promoted to MD in 2017. Anthony Rodriguez, a macro trader at Goldman in the U.S. joined BlueCrest around the same time, and Jaymal Nathwani, a former Goldman trader, joined the fund in Switzerland. 

This year's Goldman exodus to BlueCrest follows the departure of Simon Kingsbury, Goldman's ex-head of European interest-rate swaps trading, who left in March 2018 and arrived at BlueCrest four months' later.  
BlueCrest is a big fund that has pretty phenomenal returns and manages a significant amount of money, but it's essentially a family office these days. Michael Platt stopped taking fees years ago, so a move to BlueCrest means that these Goldman traders are still confident enough to eat what they kill at a place that does 50%+ on the regular.
Basically, what Goldman is seeing right now is not just the willing departure of its Butter King, it's also seeing guys who think they're way better off finding alpha somewhere else without having to worry about butter at all. That leaves us wondering when or if DJ D-Sol and The Waldron Prince will start to care.
Goldman Sachs keeps losing top traders to hedge funds [efinancialcareers]