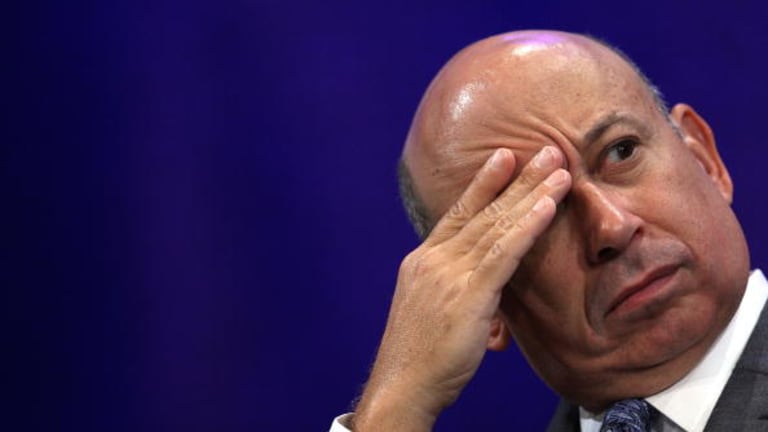 Lloyd Blankfein Attempts A Clapback Tweet, Ends Up With A Flaming Cooperman On His Hands
Uncle Lloyd falls prey to the old billionaire curse of forgetting to not engage with Elizabeth Warren.
Elizabeth Warren's presidential campaign continues to rest on the premise that she can convince enough of the left-to-center Democratic base that her policies are legitimate enough to actually strike fear in the hearts of "The 1%" thus making her an actual populist in a 2020 general election that is poised to be a diagnostic of American populism.
And Warren is doing quite well, partly because the Democratic field is wide and fallow, and also because the people she needs to appear scared are not so much begrudgingly cooperating as much as they are going on actual television and fucking crying about how scared they are. But enough about Leon Cooperman.
Warren's newest set of in-kind campaign contributions have come in the forms of shortsighted reactionary statements from other bold name billionaires. Just the other day we had Jamie Dimon -arguably a rather media-savvy fellow- going on literally 60 Minutes and defending his stance that Warren is "vilifying successful people" thusly:
What I was commenting on is that anything that vilifies people I just don't like. I think, you know, most people are good, not all of 'em. I think you should vilify Nazis, but you shouldn't vilify people who worked hard to accomplish things. And so my comment is, I think it's American society – we're just attacking each other all the time.
This is not the most structured thought on its own, but the inclusion of a Nazi reference did remind us that Warren seems to have a magical power of making these guys say crazy shit whenever her name comes up. 
Dimon eventually steered the conversation back to the larger issues of the system that creates wealth inequality and away from identity politics, and most importantly himself, and he also managed to not literally cry, so it was not the worst Warren clapback we'd seen recently.
We got that one today.
After the Warren campaign aired an ad on CNBC today with clips of actual billionaires like Peter Thiel, Lloyd Blankfein and her boo Leon Cooperman taking shots at her "Billionaire Tax" plan, CNBC called Cooperman about the ad and he responded with the nuanced aplomb we've come to expect at this point:
"In my opinion she represents the worst in politicians as she's trying to demonize wealthy people because there are more poor people then wealthy people," Cooperman told CNBC in a later interview. "As far as the accusations of insider trading, I won the case. She's disgraceful. She doesn't know who the fuck she's tweeting. I gave away more in the year than she has in her whole fucking lifetime," he added.
[We put the cursing back in from an edited version because that's what he fucking said.]
But Cooperman falling into a pants-shitting rage over Warren's provocations [even though Leon objectively started this feud with her] is no longer a surprise or news. Cooperman has become the ideal accidental Warren campaign surrogate, a cursing, crying face to put on the billionaires that Warren wants voters to see as cursing and crying. It's up to other, more emotionally composed and savvy billionaires to not take Warren's bait. To keep things above the belt and prove that her policy of soaking the rich will not work.
Oh, Lloyd Blankfein tweeted? Well, Uncle Lloyd is good at this; a smart guy with a deft comic touch, let's see what he did...
Ah, a rather weak and quasi-butthurt complaint about being featured in her ad and then an unsubtle Pocahontas joke/dog whistle? This is dumb, and not because it's not Woke or whatever, but because it's Cooperman-level self-harm.
Sure, Warren made this personal by including Blankfein in the ad, but it was like laying out a hidden trap in plain sight. Lloyd Blankfein is someone so wily that he ran Goldman Sachs for more than a decade, so it's pretty galling to see him fall for something so absurdly obvious. 
Lloyd's tweet is going to offend people, but he meant to do that. It's also going to make many people think that Warren's inchoate wealth tax policy makes him angry and scared enough to do a bad tweet, and it's Elizabeth Warren who meant for him to do that.