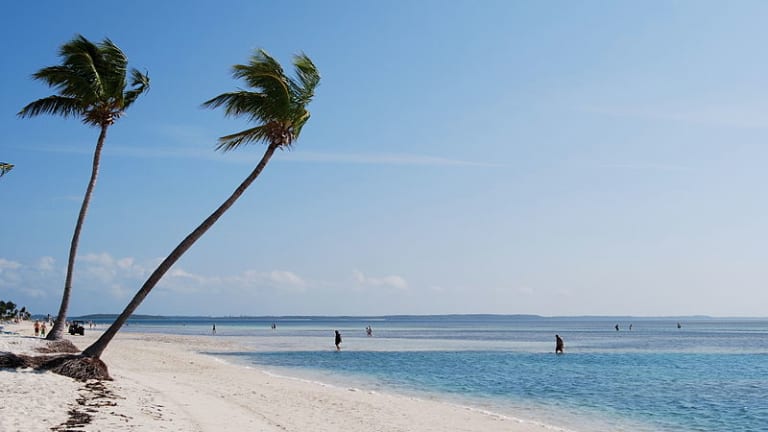 Louis Bacon Closes Hedge Fund To Ensure He Doesn't Miss Humiliation, Incarceration Of Neighbor
He's been waiting 10 long years for this.
For nearly a decade, Moore Capital Management founder Louis Bacon and his Bahamas neighbor, Canadian discount fashion mogul Peter Nygard, have nursed a small disagreement about the latter's 150,000-square foot Mayan-style resort abutting the former's presumably less-ostentatious beach home. While nominally about Nygard's alleged illegal dredging of the waters of Lyford Cay, the dispute has metastasized into a morass of international litigation, with allegations of Ku Klux Klan membership, false accusations of Ku Klux Klan membership, military-grade speaker deployment, drug trafficking, arson, assault, breaking and entering, vandalism, political corruption, defamation, counter-defamation by New York Times, insider-trading, attempted murder(s) and actual murder.
Amidst all of those claims and counterclaims, only a couple of things are legally clear: Nygard did, in fact, dredge illegally, as alleged by Bacon and his Hollywood buddies, and then ignored the courts of his adopted islands when they sought redress. As such, when Nygard seeks to return to his eponymous cay, he'll first have to meet some men with handcuffs.
Nygard will be arrested upon returning to the Bahamas, where he and Save the Bays, a nonprofit backed by Bacon's foundation, have long been battling in court, according to Fred Smith, an attorney with Callenders & Co. who represents the nonprofit. His contempt of court and alleged theft of confidential emails, between attorneys at Callenders, Bacon, and Save the Bays, have led to a court sentencing of 90 days in jail and a $150,000 fine, Smith said in a phone interview Wednesday….

According to Smith, Callenders' confidential emails were used in a complaint that Nygard filed against Bacon in New York this year…. Beyond prison time and the fine, Nygard was ordered to stop using the confidential emails that "persons unknown" published and misappropriated in court proceedings in New York, according to a document from the Supreme Court in the Commonwealth of the Bahamas that's dated November 15. Within the seven days following that date, Nygard must also write an apology giving "full and verifiable reasons for his non-appearance" in court, the judge ruled.

Once those seven days have passed, Nygard will have to pay a $5,000 fine for each day he continues to use the emails or fails to provide the required apology, according to the document.
Nygard claims he's too sick to travel to the Bahamas right now for his days in court and jail, but the prospect of seeing his longtime rival hauled off to the tropical pokey to maybe die seems too good for Bacon to miss, so, we assume, he's dropping literally everything to make sure he doesn't. Although he's got some better official excuses for ending his three-decade career and returning outside capital.
"Intense competition for trading talent coupled with client pressure on fees has led to a challenging business model for multi manager funds such as ours," Mr Bacon wrote in a letter to investors seen by the Financial Times. "Our move to a proprietary funded asset base will allow us to be more opportunistic in acquiring investment talent and more competitive with those whom have a 'pass through' structure."
And also to allow him to do so while sitting on a beach chair in front of the airport or prison in Nassau, just in case.
The letter cited "disappointing results of these funds of the last few years," but said that "our long term track record is one we remain proud of."

Mr Bacon also told investors that he is scaling back his involvement to allow "more personal time for a large family, philanthropic pursuits and to continue to develop a number of sports oriented properties."
Like Nygard Cay, perhaps?
Louis Bacon to shut Moore Capital hedge funds [FT]
Peter Nygard Faces Jail After Spat With Hedge Fund Founder Louis Bacon [II]