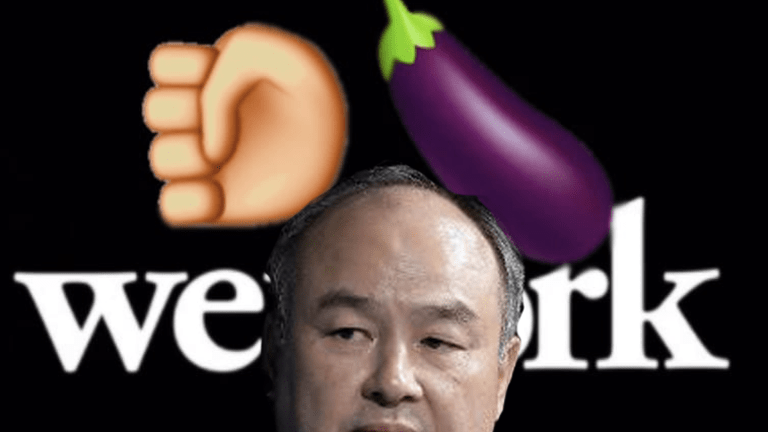 Opening Bell 11.12.19
You had one job, Claure ...
Start your day with the Opening Bell powered by The Water Coolest. The Water Coolest is the preferred bathroom stall reading material of finance professionals. Sign up for the free daily newsletter.
PLAYING HARD TO GET
Everyone's got a "type" ...
And it appears that The We Company's type is eccentric white males with long flowing locks. After sending Adam Neumann packing WeWork apparently has eyes for John Legere, the soon to be former CEO of T-Mobile, whose interests include long walks on the beach and slow cooking food.
A tangled web
It isn't exactly surprising that Legere's name is being thrown around. He'll be a coveted free agent after the T-Mobile/Sprint merger goes through. Sprint's current CEO is expected to take the reins of the combined company.
Not to mention, SoftBank, which bailed out We last month is a majority owner in Sprint. And Marcelo Claure, the current executive chairman of Sprint and COO of SoftBank was recently named We's executive chairman. He was also one of the architects behind the T-Mobile/Sprint tie-up so he and Legere have shared more than a few slow cooker Sundays together. Read: corporate incest.
But prior to the merger talks, Claure (who was CEO of Sprint from 2014 to 2018) and Legere were bitter telecom rivals who were no stranger to social media ribbing. Unsurprisingly, Legere, who looks like your uncle that follows Dead & Co. around the country, trolled Claure ruthlessly.
The bottom line ...
We's Co-CEOs Artie Minson and Sebastian Gunningham took over after Neumann's dishonorable discharge, but it appears they were only meant to stop the bleeding in the interim. SoftBank, which bailed out the lukewarm hot-desking unicorn is firing up LinkedIn Premium and looking for a new CEO.
Masa Son's brainchild is considering a laundry list of candidates and claims Legere isn't even near the top of the list. Ah, playing hard to get, the oldest trick in the book. 
T-Mobile's stock fell nearly 2% on the news that it's CEO could be heading for a premature exit.
T-Mobile CEO John Legere is a candidate to become new CEO of WeWork [CNBC]
There's plenty more where that came from. Sign up for The Water Coolest today to get the free daily newsletter delivered to your inbox daily.