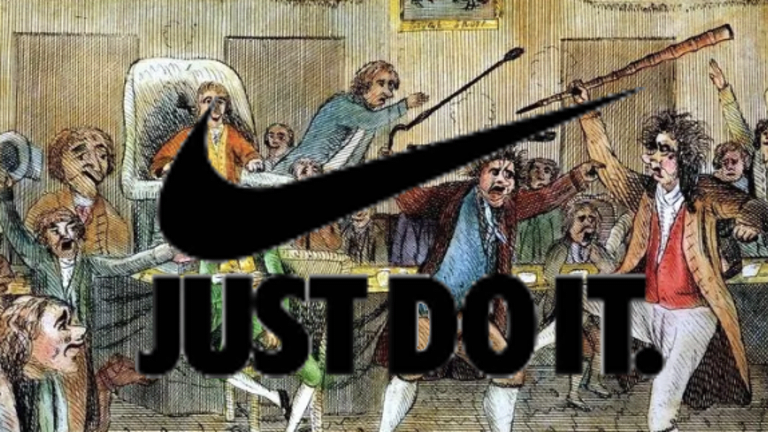 Opening Bell 11.14.19
Just did it.
Start your day with the Opening Bell powered by The Water Coolest. The Water Coolest is the preferred bathroom stall reading material of finance professionals. Sign up for the free daily newsletter.
SHOE DOG GONE
Nike out. On Wednesday, the sportswear goliath announced it will no longer be selling its products directly to Amazon. Nike's been peddling its wares to Bezos' brainchild since 2017 as part of a pilot test, which included an agreement that Amazon would crackdown on counterfeit Nike products. Spoiler: the test didn't go well.
Nike which does more than 30% of its business online, with $11.8 billion in direct to consumer sales for the year ended May 31 will double down on its own DTC efforts (read: take online sales in house).
By partnering with Amazon the swoosh also loses some control over how the brand is represented.
Cutting out the middleman
Nike also takes issue with the number of third party sellers making money off its products. Almost 60% of all Amazon sales in 2018 came from a middle man, a number that has doubled over the last 10 years. These resellers often mark their prices up significantly, and Nike ain't got time for that.
Heart and sole 
Under Armour and Adidas still sell to Amazon, but a number of other fashion retailers have also taken their talents elsewhere. Birkenstock's parent company removed their goods from Amazon in 2016 after voicing concerns about the rise in counterfeit sellers on the site. Since then they've had to set up a tent at Phish concerts to make up the profit.
Amazon has addressed the issue of counterfeit goods in the past, investing almost $400M last year to cut down on fishy sellers. It said that in 2018 alone it stopped more than 1M shady accounts from opening, and removed more than 3M listings from its marketplace. 
The bottom line ...
The news for Nike comes just one month after its CEO announced he'd be stepping down in January. As for the business itself, sales appear to be booming at the house that Phil built. In Q3, Nike saw $10.2B in revenue, up 7% from the same period last year. 
As for us consumers, we'll just have to wait 5 to 7 business days and pay $9.99 in shipping in order to look fresh as hell when we hang up the loafers and head out for the weekend.  
Nike won't sell directly to Amazon anymore [CNBC]
There's plenty more where that came from. Sign up for The Water Coolest today to get the free daily newsletter delivered to your inbox daily.