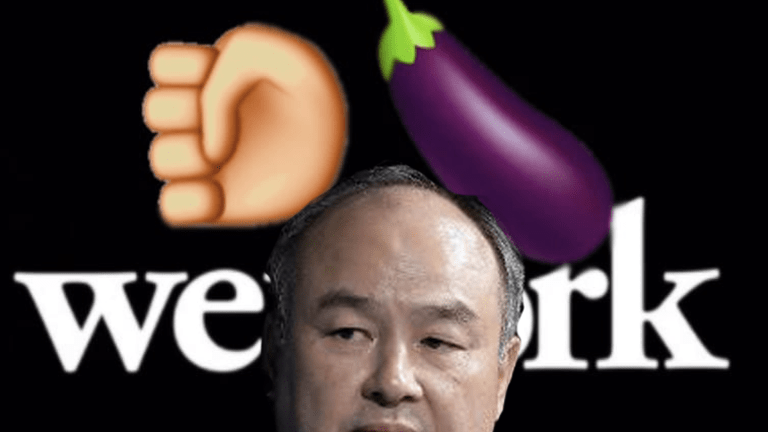 Opening Bell 11.7.19
Masa went soft in the paint ...
Start your day with the Opening Bell powered by The Water Coolest. The Water Coolest is the preferred bathroom stall reading material of finance professionals. Sign up for the free daily newsletter.
CLOUDY VISION
There's an old Japanese proverb that translates roughly to: "To lose the whole by lending a part."
SoftBank reported its first quarterly loss in 14 years thanks to bad (read: f*cking dumpster fire) investments in Uber and WeWork. The company's $100B Vision Fund finished with an operating loss of $8.9B for the quarter that ended September 30th, leading to a loss for SoftBank (the company).    
Damn, Son
In announcing the losses, Masa said he had "really bad" judgment when evaluating his investment in WeWork. This is a step in the right direction considering the first of the 12 steps to recovery is admitting you're powerless over Adam Neumann.
Despite obvious red flags and governance issues that ultimately led to WeWork's botched IPO and slashed valuation, the CEO believed in WeWork's Neumann and encouraged SoftBank's recent $10B bailout investment. Sounds like Masa and I need to see the same relationship counselor.
As part of the reporting, SoftBank and the Vision Fund, which have each invested in WeWork separately, wrote down the value of their investments to $4.7B and $3.5B, respectively. All in, the firm is into WeWork for $20B via a mix of debt and equity, while the current value sits at just $7.8B. Is it too late for a refund?
Double vision
SoftBank has been in fundraising mode looking to build a second $100B Vision Fund, but the announcement of the loss could be a cause for concern. Still, no investors have pulled out yet and Masa expects the fund to go ahead as scheduled.
The bottom line ...
Despite the losses, the Vision Fund itself has turned a profit on the investments it has made overall. The Fund, run by ex-Deutsche Bank banker (red flag!) Rajeev Misra has invested $70.7B in 88 companies that are currently worth $77.6B, excluding exits. Even if the WeWork investment goes up in flames, it would take a lot of losers to burn through all the cash SoftBank has amassed.
SoftBank Reveals $6.5 Billion Loss From Uber, WeWork Turmoil  [Bloomberg]
There's plenty more where that came from. Sign up for The Water Coolest today to get the free daily newsletter delivered to your inbox daily.