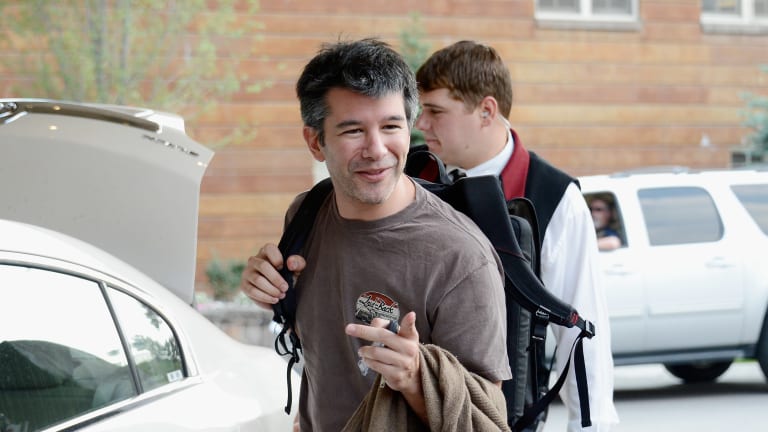 Opening Bell 11.8.19
Don't call it a comeback ...
Start your day with the Opening Bell powered by The Water Coolest. The Water Coolest is the preferred bathroom stall reading material of finance professionals. Sign up for the free daily newsletter.
TRAV-ESTY
The OG bad boy of ride-sharing, Travis Kalanick, has moved on to a new venture that just announced it has secured $400M via a funding round from Saudi Arabia's Public Investment Fund (which actually closed back in January of this year).
Travis' company, CloudKitchens, purchases low-cost real estate to be used as commissary kitchens for delivery-only companies and even develops its own products that it delivers via UberEats. Oh, the irony. Some companies will also create "special" (read: days old) menu items that are only available via apps.
Bros before foes
T-Kal's relationship with the Saudi wealth fund began during his time at Uber. The PIF was an early investor in the ride-sharing company. And Kalanick became fast friends with Yasir al-Ramayyan, who had his back during his well-documented ouster as CEO of Uber. Read: they were Adam Neumann and Masa Son before it was cool ...
The bottom line ...
This is the first Saudi investment in a Silicon Valley company since Journalist Jamal Khashoggi was murdered. That is part of the reason why the investment was kept quiet for so long. 
Kalanick has raised $700M, including his own money, to expand the not-so-novel concept in other cities. As the delivery game heats up, low-cost food production could be a way to capitalize on the trend.
Saudis Back Travis Kalanick's New Startup  [WSJ]
There's plenty more where that came from. Sign up for The Water Coolest today to get the free daily newsletter delivered to your inbox daily.