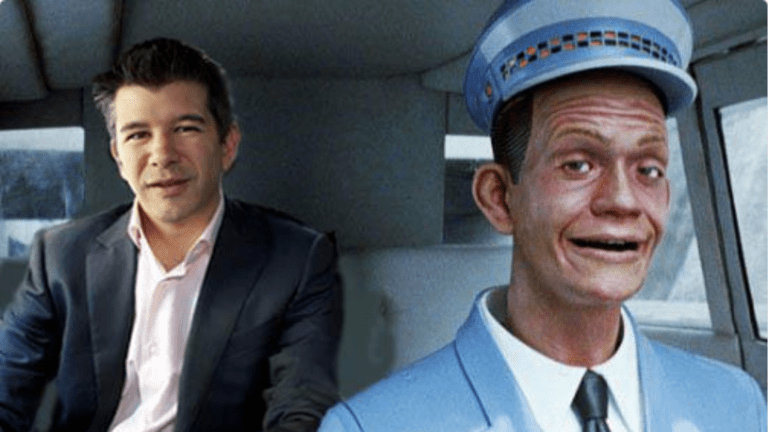 Guy Who Founded Uber Realizes He Owns Way Too Much Uber Stock
Travis Kalanick wasted no time getting about $500 million lighter on his UBER shares.
The growing batshit legend of Adam Neumann's titanic ego has almost made us all forget when Uber founder/former CEO Travis Kalanick was the king of nonsense startup bragging.
Kalanick was for many moons considered to be the douche king of tech, a guy who was so loopy confident about his own company that he took an insane of money from everyone who offered while openly contemplating a way to never ever pay them back. Even moreso than Neumann was symbiotic with WeWork, Uber seemed to rise and fall on how the world perceived Kalanick, yet his belief in the company he was building without morals or profit never wavered. In retrospect, Kalanick seems to have been the dark magic behind Uber, and the fact that he still lurks in the company's background has ceased to be a total negative for investors.
Anyway, the UBER lockup ended late last week and we haven't really checked in on how that went...
Uber co-founder and director Travis Kalanick sold more than half a billion dollars worth of stock last week after the company's lockup period expired.

Uber's 180-day restriction on inside and early investor sales came to an end Wednesday, sending the stock down that day in anticipation of a wave of sales. Kalanick, the former CEO of Uber who was ousted from the top seat after being accused of fostering an unhealthy workplace environment, sold more than 20 million shares held in a trust over three days last week, according to a financial filing submitted to the Securities and Exchange Commission on Friday.
Oh. 
Uber's stock has plummeted to about $27 per share as of Friday's closing price from its opening price of $42 at its May debut. The company's market value is now about $45 billion, down from nearly $70 billion at the end of its first trading day.
Yeah, OK, sure, but the idea that Kalanick would cash out even 20 million shares is pretty wild if viewed through a 2016 prism. Unlike Neumann, it never seemed to be about enriching himself. It was all about proving Uber worked. Other than cash flow and a plummeting stock price, what could have caused such a momentous shift in confidence?
Well, if Dara Khosrowshahi is gonna go on TV and make light of the murder and dismemberment of an America journalist just to stay in good favor with his Saudi investors then, of course, Travis is going to be pissed...that's stealing his bit.
Uber co-founder Travis Kalanick sells half a billion dollars in stock after lockup period ends [CNBC]