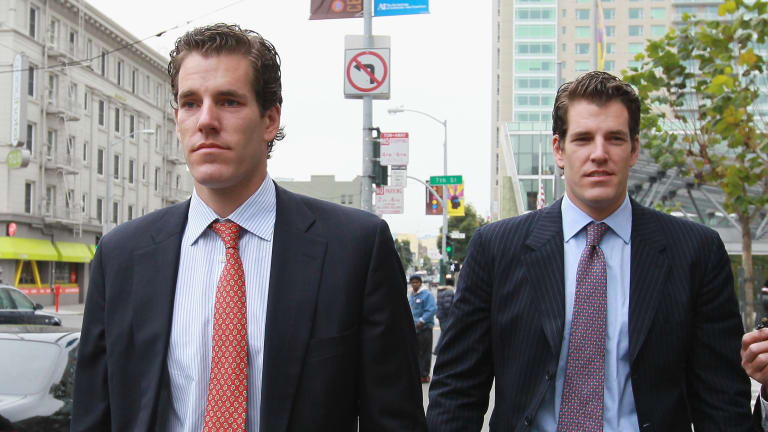 The Winkelvii Acquired A CryptoKitties-Based Startup Founded By Another Pair Of Identical Twins, And Those Are All Words We Just Typed
Tyler and Cameron are all about The Brothers Cock Foster and their "nifties."
Hello, would you like to feel annoyed and stoned all at once just from reading text? 
Well, Bloomberg is here for you:
Crypto entrepreneurs Tyler and Cameron Winklevoss just made their first-ever acquisition, and the duo behind the company they bought couldn't be more similar.

Duncan and Griffin Cock Foster, 25, are also identical twins. While the 38-year-old Winklevoss brothers rowed in the 2008 Beijing Olympics, the other twins rowed in high school. That said, the Cock Fosters weren't involved in the birthing of social network Facebook Inc.
Remember when a pair of twins named Cameron and Tyler Winkelvoss getting numerous chances to succeed in tech was considered the reductio ad absurdum of mediocre white men thriving in Silicon Valley? Well, now we have Duncan and Griffin Cock Foster. And aside from the creepy optics of twins buying other twins, one would think that everyone would be pretty sensitive with verb choices aroung the Cock Foster boys.
You'd really think:
"You can't make this stuff up," Tyler Winklevoss said in a phone interview. "There are so many great parallels, it was just the right fit."
Is there a bad fit with Cock Fosters though?
But hey, let's not be [too] puerile. Maybe the Cocks Foster have a very fintech-y niche business that the WInkelvii can overlay on Gemini, letting customers trade crypto more effectively and lending legitimacy to a still-wild frontier of finance...
The two sets of twins came together over their belief in the future of so-called nifties. A niftie may be a cat from the CryptoKitties game, in which players breed the digital felines, or a token representing ownership in art, stamps and comic books -- an asset that is being kept track of via a blockchain digital ledger and is tradeable. To buy such a collectible, people typically have to open digital currency wallets, buy cryptocurrency on an exchange -- a process that can take hours and can be confusing.

The Cock Fosters' Nifty Gateway, which the Winklevoss's Gemini Trust Co. bought for an undisclosed sum, lets anyone pay for nifties with a credit card, via a streamlined experience similar to checking out through Amazon. The company currently lets people buy nifties from Open Sea marketplace and CryptoKitties and Gods Unchained games.
So, no. Essentially the Winkelvii looked at a fellow pair of human egg roommates, sized up their startup and said [in unison, probably] "We like the fit of these Cock Fosters and their nifties!"
Crypto is great.
Winklevoss Brothers Buy a Startup Founded by Identical Twins [Bloomberg]