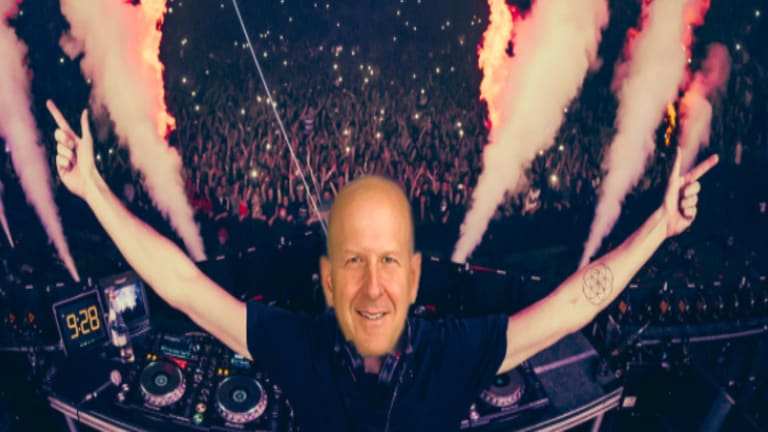 David Solomon Like Every Normal Guy Who Spends His Weekends DJing In The Bahamas
He may even take AirTrain to JFK.
David Solomon has been CEO of Goldman Sachs for a little over a year. It has not been a good year. (It wasn't even a good first month.) From the Malaysian bribery scandal to the credit card debacle to the beating estimates only by cutting pay to the money-losing to the latest insider-trading scandal, this is not your Lloyd Blankfein's Goldman Sachs. One can forgive a little need to cut loose. And, as we all know, he does!
Fifty-seven-year-old Solomon, for instance, is known as "D-Sol" on weekends, when he performs his side gig as a classic rock DJ at nightclubs in New York City, Miami and the Bahamas (think Guns N' Roses and The White Stripes).
OK, so maybe this doesn't make him quite as relatable as the Goldman PR office hoped. But, like, how about this?
Solomon also rides the New York City subway to work and prefers to fetch his own coffee at the office.
See, just like you! Only more so because, unlike you, he doesn't actually have to do either of those things. And he's doing them in spite of those probably tie-wearing losers who want a man in his position to travel exclusively by sedan chair while a nubile young intern silver spoons that jungle cat-shit coffee into his mouth.
To certain board members' horror, Solomon, who made $23 million last year, habitually chooses to travel around New York City by subway. "I mean, why wouldn't you take the subway? No, seriously," he says. "It's quicker and more efficient. You know, the mayor of New York can take the subway. Why can't the CEO of Goldman Sachs?"
Quicker and more efficient? All of a sudden we're skeptical of Solomon's claim to be a regular on the A train, because we can think of a great many reasons not to take the subway. And what subway line, exactly, does one take from Soho to 200 West? Seems like a lot of walking on both sides of the trip to go maybe two stops. None of this adds up.
Goldman Sachs' CEO takes the subway, gets his own coffee and has a side hustle as a DJ [CNBC]
Knocking Down Walls at Goldman Sachs: Can CEO David Solomon Get the Storied Bank to Grow Again? [Fortune]