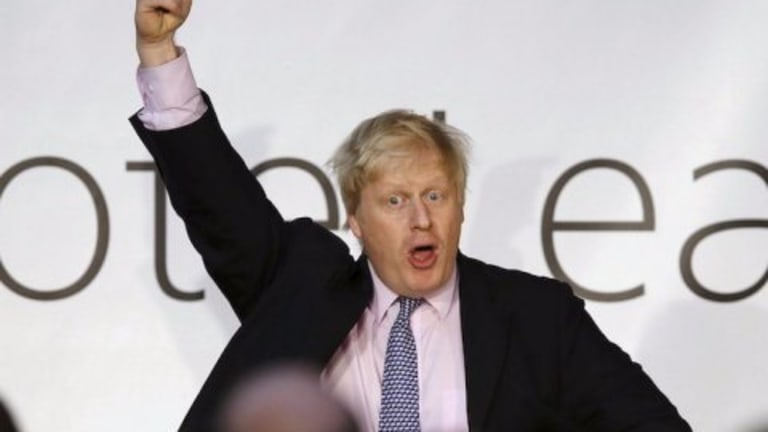 Boris Johnson Wastes No Time Proving, Yup, He's Still Boris Johnson
Thanks for the campaign money, City, and sorry (but not really).
In the hours and days after Boris Johnson won a fairly resounding victory in the British general election Thursday, something like exuberance overtook the markets. Sure, the people of the U.K. had just handed a huge mandate to a bloviating charlatan, and yes, Brexit will in the long run prove a disaster, but after three-and-a-half long years of jittering uncertainty, at last there appeared to be some kind of resolution on the horizon. Investors poured back in, the pound surged, the hedge funds triumphed. For one whole day. And then Johnson had to go ahead and open his mouth.
The U.K. prime minister on Tuesday proposed making it illegal to extend a deadline currently set at the end of next year for agreeing a new trade deal with the European Union. This kind of cliff-edge can help force politicians to find a compromise, but the timing is unrealistic, raising the risk of Britain leaving the EU without a trade deal in 2021.
The British pound fell against the U.S. dollar Tuesday on mounting concern that the U.K. may break its ties with the European Union at the end of next year without a fresh trading agreement in place, clouding the nation's economic prospects…. Prime Minister Boris Johnson aims to prevent a transition period following the U.K.'s exit—now on track to take place on Jan. 31—from being extended beyond the end of 2020, U.K. broadcaster ITV News reported late Monday….

"Boris' proclamations that he can get the post-transition relationship between the U.K. and the EU resolved within 11 months are rather fanciful," said Seema Shah, chief strategist at asset manager Principal Global Investors. "We have not only struggled with this conversation for more than three years, but no two major countries have ever achieved a trade deal in under three years."
So, in one sense, you may not be getting what you paid for. In another, yeah: You got exactly what you paid for.
Pound Sees Biggest Drop in a Year Amid Brexit Trade Concerns [WSJ]
A Wild Post-Brexit Ride for U.K. Banks [WSJ]
Investors Pour Into U.K. Markets as Election Result Calms Brexit Jitters [WSJ]
British Pound Surges as Johnson's Conservatives Win U.K. Election [WSJ]
Thumping win for Conservatives fuels profits for hedge funds [FT]