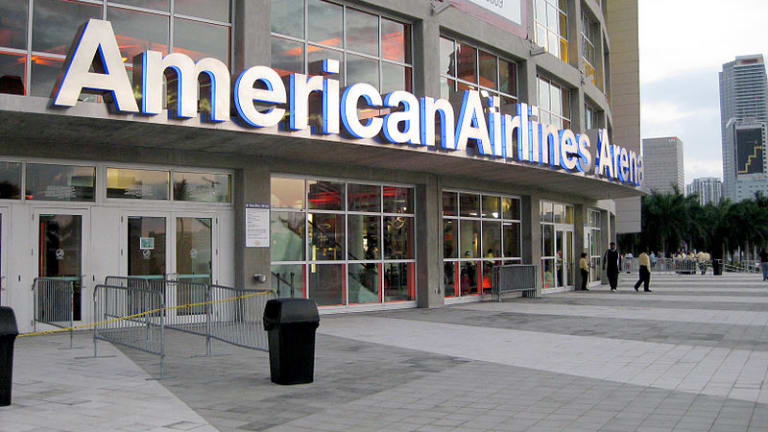 What's In An (Arena) Name? $2 Million Of Public Money
Miami adds to its claim as the biggest sucker city in sports.
Here are the names of five NBA arenas, see how many you can match to their tenants.
Amway Center, Capital One Arena, Pepsi Center, Spectrum Center, State Farm Arena.
And here's the answer key.
Orlando Magic, Washington Wizards, Denver Nuggets, Charlotte Hornets, Atlanta Hawks.
But if Capital One Arena is in Washington, where is Chesapeake Energy Arena? Ah, of course, Oklahoma City. Then there are the ones in the "huh?" category, like Golden 1 Center in Sacramento, Smoothie King Center in New Orleans and Vivint Smart Home Arena in Salt Lake City.
The reigning champion of NBA arena naming silliness, though, is the fact that American Airlines has its name on buildings in both Miami (American Airlines Arena) and Dallas (American Airlines Center) – with two entire NBA Finals played in those arenas, in 2006 and 2011 between the Heat and Mavericks. But the run is coming to an end.
American's naming-rights deal for the Heat's arena expires when the calendar turns to 2020, though there is nobody set to put their name on it and nobody seems to know what it will officially be called in two weeks, let alone what happens to the giant airplane painted on the roof.
Don't worry about the Heat, though. They'll be fine playing in whatever their home is called, continuing to get $2 million a year even without sponsorship. That's because Miami-Dade County has taken over responsibility for the building's name, and even though it's not like the expiration of American's deal came as a surprise, the government hasn't found a deal.
"We always said we might have to carry it for a while," Mayor Carlos Gimenez told the Miami Herald. "But I'm confident we're going to more than make up for it."
It's disingenuous to claim that not having a deal in place is okay because "we're going to more than make up for it." Naming rights for an arena do tend to be much more valuable than the $2 million American has been paying – recent deals have been worth $6 million annually in Sacramento and $10 million a year in Washington. But every day that Miami isn't collecting money from some company that wants to be locally famous while having the rest of the world say, "That's where the Heat play?" is a day that Miami is paying money to the local basketball team instead.
But there is hope, as last month it was reported that TD Bank is negotiating to put its name on the… wait a minute. TD Bank? As in, Toronto-Dominion Bank. As in the Toronto Dominion Bank that already has the naming rights to TD Garden, the home of the Boston Celtics?
This is too stupid not to happen.