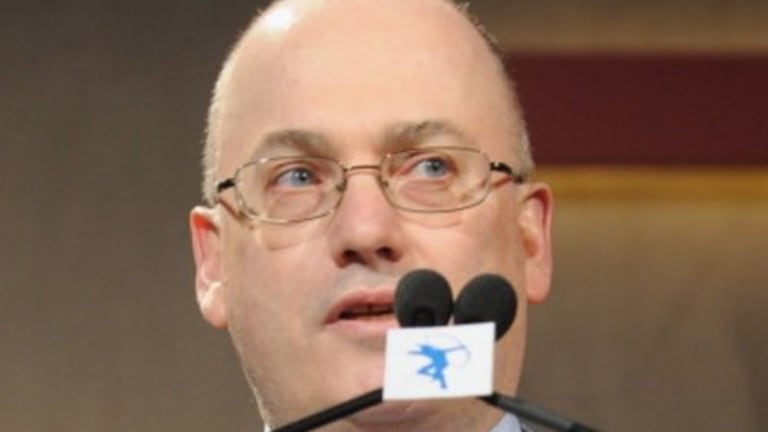 Taste For Black Edge No Obstacle To Buying The Mets
Rob Manfred sees nothing unusual or untoward about the Steve Cohen era in Flushing.
The Houston Astros are embroiled in a cheating scandal. It seems the quantitatively-minded McKinsey whiz kids who run the team and led it to a World Series championship two years ago and a second pennant this year's bright idea was to put an illegal camera in center field to relay the catcher's signs to a guy sitting at a folding table with a laptop, a bat and a garbage pail to alert Astros' batters to the type of pitch about to come their way. In light of those circumstances, you might think that Major League Baseball would be a little shy about turning another team over to a quant-curious afficionado of black edge, but no.
"With respect to the Mets, I've been closely following the progress of this activity for a while," Manfred said. "Steve Cohen and Fred Wilpon have known each other for a long time. Steve has been an element in the club for a long time./"I do not expect that there will be any governance issues associated with the plan that they have in place for the transition of the Mets. It's a pretty standard-looking transaction in terms of path-to-control and transition," he said.
This is both good news for Mets fans and not the slightest bit surprising: After all, Cohen was approved to buy a Major League team not once but twice as the insider-trading scandal swirled around him, and even after his firm pleaded guilty to it MLB didn't make a peep about his 8% stake in the Mets. Manfred wouldn't put a timetable on it, but its safe to say the Mets will all be wearing fleece in the dugout in the relatively near future.
And there's more good news for Mets fans: The Daily News has some further insights into how the Big Guy plans to bring the glory days back to Flushing.
Cohen and his wife, Alexandra, have longtime ties to Omar Minaya, a top assistant to Mets general manager Brodie Van Wagenen, well before he bought a stake in Mets ownership. Alexandra Cohen is from Washington Heights and her father was a huge Mets fan. Bobby Valentine, who managed the Mets from 1996-2002 and led them to a World Series berth in 2000 — is and was close to Cohen and Alexandra, too.
Rob Manfred does not expect 'any governance issues' in Mets' ownership sale to Steve Cohen [NYDN]