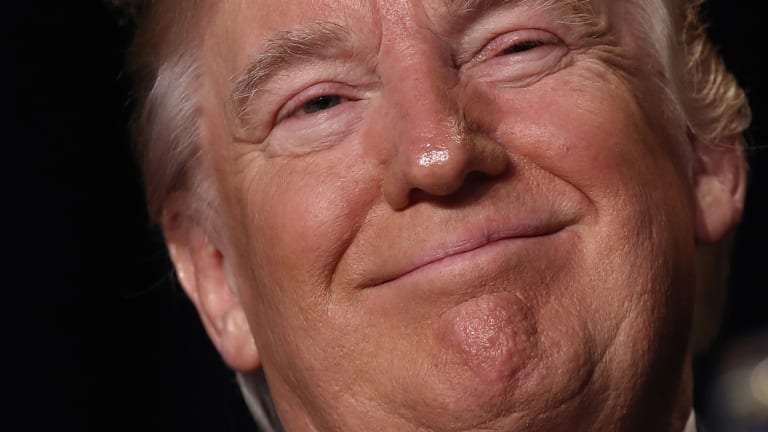 Opening Bell 12.11.19
This is why we can't have nice trade deals ...
I'LL TRADE YA
It's a done deal! Kinda ...
Just before finding time to back those articles of impeachment everyone seems to be talking about (more on that later), Speaker of the House Nancy Pelosi gave the green light to a new version of a long-disputed trade deal between the US, Canada, and Mexico. 
The House will vote on the US-Mexico-Canada Agreement (or USMCA for those of us whose fingers tire quickly) early next week. And with Pelosi's backing, there's a good chance it passes. 
The USMCA-what now?
The agreement between the three North American nations will replace NAFTA and lays the groundwork to help create more manufacturing jobs in the western hemisphere.
In doing this, the US, Canada, and Mexico will generate more of the materials used to build cars and trucks right here in North America, thus reducing the duties paid on importing products from *gulp* China. In business, we call that a win-win. 
Right-wingers have been onboard with a reworked NA trade agreement for a while now, but Democrats were concerned that it was unenforceable ... until today. 
Speaking of trade agreements...
With the December 15th tariff deadline looming over US-China trade talks, we've reached full-blown clusterf*ck status. That's an official government label, by the way. 
According to reports on Tuesday morning, both the US and China indicated that Sunday would not be the final deadline for coming to a deal. The main point of contention between the nations lies in a commitment by China to buy US farm products, as insisted upon by President Trump. 
A different story
Donny's White House is telling a different story, however. According to White House financial advisor Larry Kudlow, those December 15th talks are still very much on the table. According to Kudlow, tariffs could still kick in on Chinese imports on Sunday, driving the divide even further. Siri, wake me up when they've got this thing figured out ...
The bottom line ...
A new USMCA deal is not only good for manufacturing, but for tech companies as well. The new deal would allow for data to be shared freely across borders, allowing for more open communication.
As for China, until we get a solid answer on what's happening on Sunday, it's anybody's guess as to how this will shake out. Godspeed, markets.
Revised Trade Pact Set for Likely Approval by Congress in 2020  [WSJ]
There's plenty more where that came from. Sign up for The Water Coolest today to get the free daily newsletter delivered to your inbox daily.