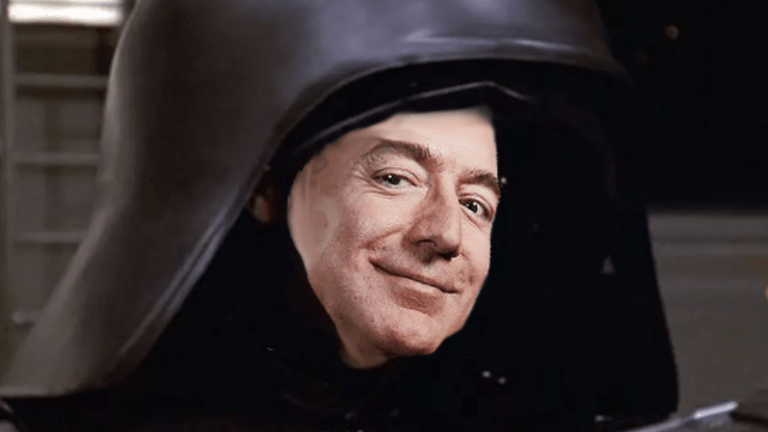 Opening Bell 12.17.19
Jeff Bezos is the kinda guy who avoids eye contact with the Salvation Army Bell Ringers ...
BAD TIDINGS
Bezos just went all [INSERT CHRISTMAS MOVIE VILLAIN HERE] on FedEx just as the holiday delivery season is heating up, blocking Amazon third-party sellers (which account for more than 50% of sales on AMZN) from using FedEx ground shipping for Prime orders during the holiday season … and potentially longer pending performance.
Flex on 'em
Jeffrey Commerce claims that FedEx is failing to "deliver" and is unable to manage delivery by Christmas for Prime orders. Amazon will still allow sellers to utilize FedEx's more expensive Express service for Prime orders. A real holiday miracle.
Tit for tat
The news isn't exactly surprising considering the logistics d*ck measuring contest Amazon and FedEx are locked in. You see, Amazon is making moves in the delivery space.
And that isn't sitting well with its partners like UPS, USPS and especially FedEx. Federal Express made the first move, ending its express US shipping contract with Amazon in June and its ground delivery contract in August. Shots fired.
The future Mr. Sanchez isn't going down without a fight, funneling some of that AWS money into a delivery network of his own. Bezos is dropping $1.5B on an air hub in Kentucky that will house 50 Amazon planes, and created the Delivery Service Partners program in June, while still pursuing drone delivery (... and presumably this nightmare machine).
The bottom line ...
The shipping giant fell roughly 1% during trading and nearly 1% after hours, but according to FedEx brass the news is merely a flesh wound as it affects a "very small number of shippers."
Amazon didn't have much to say but we do have a live look at Jeff Bezos.
Unsurprisingly, the real victims here appear to be small biz owners (aka Amazon third-party retailers) and customers. Amazon sellers will be forced to find new delivery options and potentially eat (or pass along to consumers) additional shipping costs. 
Amazon blocks sellers from using FedEx ground-delivery shipping [CNBC]