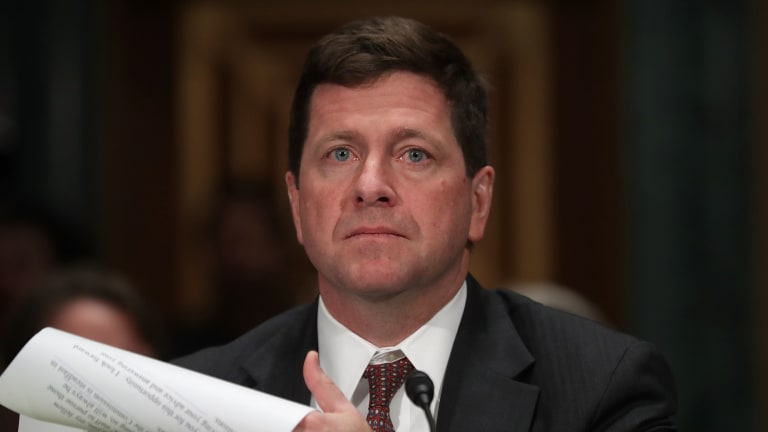 Jay Clayton Paints His Masterpiece
An accredited investor definition that keeps their numbers about constant and decreases the likelihood of people coming crying to the SEC? It's perfect.
Some of President Trump's financial regulators aim to take an ax to the whole idea of financial regulation. Some aim to slowly erode them from within. Since taking the helm at the Securities and Exchange Commission, Jay Clayton has forged his own Trumpian path, that of being seen to do things without really doing anything at all. Sometimes, this works wonders, as with his efforts to discourage whistleblowers from turning tout. Sometimes, it works less well, like when his efforts to save Bill Ackman from himself make Carl Icahn very angry. And sometimes, other people—fingers crossed for the Supreme Court—just go ahead and take things off his plate for him.
So while Clayton & co. wait to find if they have to continue seeking easy disgorgements, they're hard at work crafting a new definition of "accredited investor." That designation is the one that allows a person to invest in hedge funds, private equity funds, venture capital funds, private placements and the like, and it's one that the SEC and Congress have noodled around with since coming up with the term, most recently to allow registered brokers and investment advisers to invest no matter how little money they've got. Because for most people, it is a matter of money: If you make at least $200,000 a year, or have $1 million in assets not including your home, you're accredited.
Clayton wants to be seen to be deregulating like all his buddies, so his new definition will include blanket accreditations like those for RIAs and brokers—have the right job in finance, and you've got the right to give your money to Steve Cohen, if you want to. But seeing as how $200,000 a year doesn't mean as much as it did when that number was settled upon in the 1980s, and seeing as how people making that much money who then lose a chunk of it on a hedge fund are inclined to seek redress from the SEC—the very thing Clayton wants least—the SEC seems ready to update that part of the picture as well. And so, in the end, it'll all come out in the wash.
U.S. rules that determine who can invest in hedge funds and private equity are poised to get their most sweeping overhaul in years, though it's unclear how much the changes will expand the pool of potential clients…

In the SEC's proposed changes, people could be deemed savvy enough to invest in hedge funds if they hold certain licenses or work in finance, the people said. For instance, employment at a hedge fund could be enough to qualify for certain investments regardless of how much money a potential investor earns, one of the people said.

The plan, which could still change before SEC commissioners vote to propose it, would also index to inflation income and net worth thresholds, the people said. The current requirements that individuals earn $200,000 a year, couples make $300,000, or that investors have a net worth of $1 million haven't been updated since the 1980s.
Hedge Fund Rules That Keep Out Not-So-Rich Poised for SEC Revamp [Bloomberg]
Can the S.E.C. Force Repayment of Ill-Gotten Gains? [DealBook]
Meet the Man Loosening Bank Regulation, One Detail at a Time [NYT]