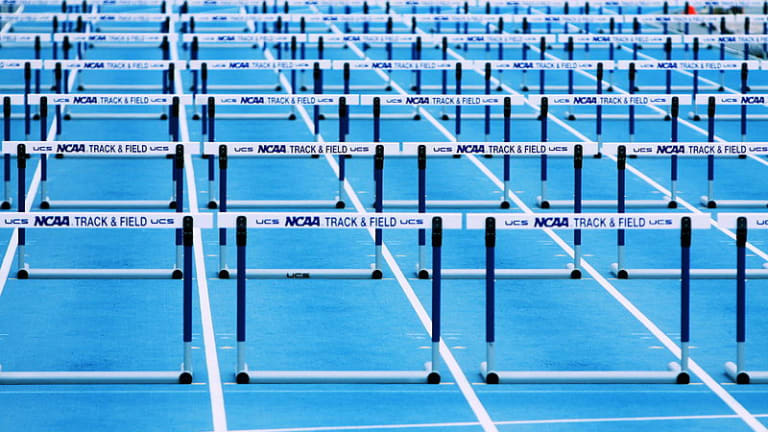 NCAA Should Endow Chair In Specious Arguments
The guardians of amateurism are running out of them.
The Discover card has come a long way since the 1980s, going from advertising with an anonymous, shirtless pole vaulter to, in its position as the official card of the Big Ten, putting Discover scarves on former standout college quarterbacks Denard Robinson, Braxton Miller, and Tommie Frazier for some Twitter video ads.
What those three gentlemen have in common is that after excelling at the college level, none could stick in the pros, leaving them available to work with the company whose partnerships with the Big Ten and the NHL are pretty on the nose as far as the pecking order of both credit cards and sports leagues go.
It's really pretty cool that Discover is giving endorsements to a few guys whose best chance to cash in on their talents was when they were starring for major college programs, though these Twitter ads also serve as a reminder that the NCAA still has to finalize its plans to allow athletes to make money for the use of their names, images, and likenesses.
Until the NCAA actually does go forward with its efforts to comply with future California law, though, there will be a lot of hemming and hawing and overthinking of things. Sometimes, though, overwrought analysis can expose basic truths of an argument.
Talking last week to ASU Now, Glenn Wong, director of the Allan "Bud" Selig Sports Law and Business program at the Sandra Day O'Connor College of Law at Arizona State (an amazing set of words to type), gave up the game a little bit – twice.
Wong posited that one argument against lifting the restrictions on paying athletes is "the devaluing of education; fundamentally altering the unique nature of college athletics, thereby blurring the line between college and professional sports. … Another counterargument that has been raised recently is the possibility that athletic donors and boosters may provide money or 'benefits' to athletes directly instead of donating to the athletic department."
On Saturday night, LSU quarterback Joe Burrow spoke about his experience with the unique nature of college athletics, saying after he celebrated with the student section at Death Valley following his final home game, "obviously, I don't go to class. I take online classes, so I don't get to see any of those people, and I just wanted to see them for the first time."
It's not quite the Cardale Jones gem – "we ain't come to play SCHOOL" – but it'll do to illustrate the point that this view of college athletics as a sort of mentally conjurable Norman Rockwell image of a young man wearing a lab coat and shoulder pads is bunk and has been for a long time. That's not to say that there aren't serious students playing sports, or even that Burrow isn't devoted to his studies in his online coursework, just that the concept of amateurism has been used to screw athletes out of money for a long time. A really long time.
But why? Ah, yes, because if athletes get paid directly by "donors and boosters" or corporate sponsors, and that money is going to them "instead of… to the athletic department," the NCAA and its member institutions presumably lose out. The only problem with this line of thinking is that donors and boosters have been paying athletes forever, too – they've just had to go around the rules to do it with things like sweet no-show jobs at car dealerships that only get discovered if done so brazenly as to be unable to ignore.
The schools will still get their money, and being able to advertise with the athletes who are doing super cool things while at the universities will be good for the universities and their athletic programs. It's way better for Chase Young, Ohio State, and the NCAA if the best defensive player in college football is in a few ads than if he's being kept off the field because of a loan, which was repaid, to get his girlfriend to the Rose Bowl.
And it's probably better for Discover if they can advertise with Young than with a bunch of quarterbacks people have barely thought about since they left college. As good as it is that Robinson, Miller and Frazier can finally get a taste now, the rules that lead to this being the situation are as ridiculous as they've ever been.