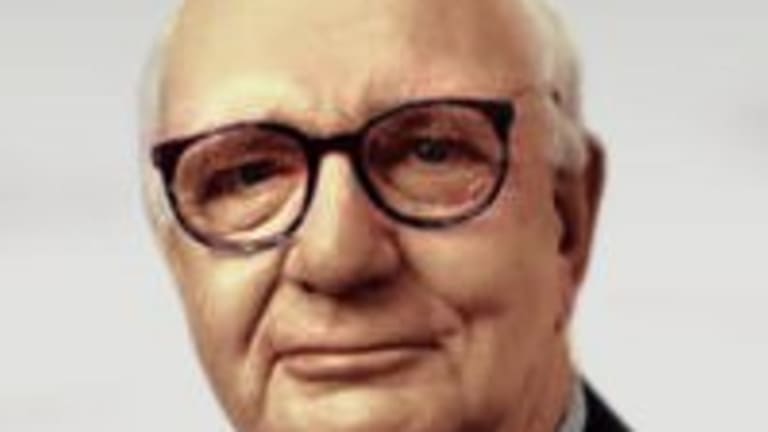 Paul Volcker Dead At 92 Of Broken Heart
Also probably of being 92, but killing his beloved progeny can't have helped, you monsters.
Former Federal Reserve Chairman Paul Volcker is dead at the age of 92. But given the thankless, miserable world in which he ended his life, he might as well have died at 82. For however nice the book deal, score-settling and encomium from Ray Dalio have been, Volcker was unfortunate to live just long enough to watch the thing he spent his last decade crafting, shepherding and defending callously and cynically killed.
His defining achievement, however, was his success in ending an extended period of high inflation after President Jimmy Carter chose him to be the Fed's chairman in 1979.
Well, yes, I guess it is indisputably now, because, you know, his other one is no more.
"Wake up, gentlemen," he lectured bankers at a conference in December 2009. "I can only say that your response is inadequate. I wish that somebody would give me some shred of neutral evidence about the relationship between financial innovation recently and the growth of the economy."

He added that it was hard to think of a worthwhile financial innovation since the A.T.M….

The rule restricts banks from making investments that are not intended to benefit customers but rather only to increase the bank's bottom line. The Trump administration has said that it plans to loosen those strictures as part of a broader review of post-crisis financial regulation.
On the bright side, Volcker won't have to watch things get any worse, which he's pretty sure they will.
"We're in a hell of a mess in every direction," he said in an interview with The New York Times in 2018. "Respect for government, respect for the Supreme Court, respect for the president, it's all gone."
But the slippery slope to perdition won't be greased by one potential candidate of Trumpian disruption. The president, who has whined endlessly about how hard it is to get some decent help running the country and proven far too easily distracted to do much about it, has had a lot of trouble filling jobs, including at Volcker's old stomping grounds. Now, in addition to incompetence (his own, his underlings' and that of his nominees), inattention and Senators taking the exceedingly rare step of doing their jobs, Trump now has to contend with grim death as an obstacle to a fully-staffed Federal Reserve Board of Governors.
Marvin Goodfriend, a top U.S. monetary economist who was nominated by President Donald Trump to serve as a governor of the Federal Reserve Board, has died at the age of 69…. Nominated for a Fed Board vacancy in November 2017, Goodfriend had a hearing before the Senate Banking Committee but did not progress to a vote before the full Senate. The nomination lapsed at the end of 2018.
OK, so Goodfriend was never terribly likely to fill one of those Fed vacancies. On the other hand, no one else has, so it was always at least theoretically possible. And, certainly, Trump could (and did!) find far worse candidates for the job(s).
Goodfriend, who was born in New York in 1950 and earned a doctorate from Brown University in Rhode Island, was widely respected for his work on monetary economics and his willingness to challenge received wisdom.
Paul A. Volcker, Fed Chairman Who Waged War on Inflation, Is Dead at 92 [NYT]
Marvin Goodfriend, Economist and Former Fed Nominee, Dies [Bloomberg]